- By checking the latest congestion levels, can be used as a reference when going out on short notice
Yahoo! JAPAN MAP (Japanese only)
Yahoo Japan Corporation ("Yahoo! JAPAN") has updated the function*1 that allows users to check the congestion status around stores such as supermarkets and pharmacies, which has been available since June 1 for its services*2 (e.g., Yahoo! JAPAN MAP (iOS/Android)). Starting today, users can also check the congestion status of approximately 2,000*3 commercial and amusement facilities in Japan, including shopping malls, zoos, and aquariums.
*1 The function is scheduled to become available also on Yahoo! JAPAN Search starting from June 30, 2020.
*2 Yahoo! JAPAN Begins Providing a Function That Indicates the Congestion Status of Stores (Japanese only)
*3 As of June 19, 2020. Charts may not be displayed for facilities whose location information could not be detected within the relevant facility.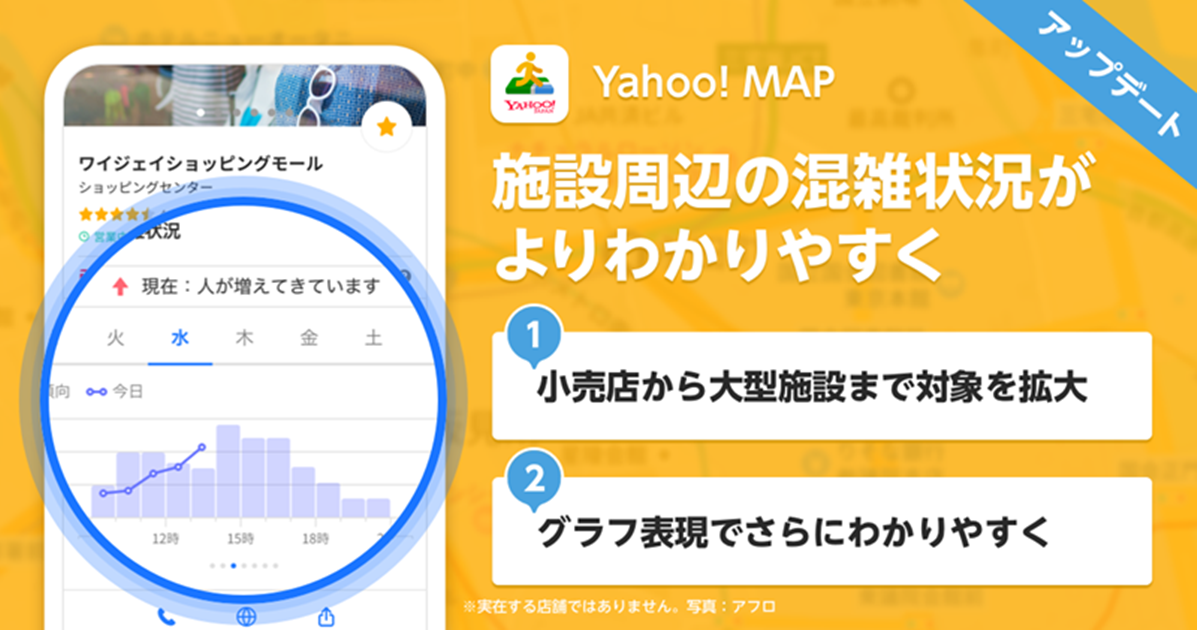 (Photo in the image: Aflo)
With this update, "Congestion trend by day of the week" is displayed as a bar chart, and "Actual congestion level on the day" as a line chart, each showing hourly changes. By switching the day of the week, users can check the congestion trends for other days of the week around retail stores, large commercial facilities, and amusement facilities. Change in congestion on a given day is also displayed in text at the top of the chart as "Changes in congestion," with three patterns – "Increasing," "Little change in congestion level," and "Decreasing" (only available for some facilities).
The congestion trends around large commercial and amusement facilities are calculated based on the statistical analysis of data obtained from users who have agreed to provide their location information on each application provided by Yahoo! JAPAN.
With the state of emergency lifted for all the prefectures on May 25, it is expected that the number of people going out will increase in the future. The Ministry of Health, Labour, and Welfare mentions "avoidance of Three Cs (closed spaces, crowded places, and close-contact settings)" in its "New Lifestyle," which provides practical examples of preventing the spread of COVID-19 infections in daily life.
According to a poll taken in Yahoo! JAPAN News, however, about 30% of the voters responded that they have been unable to avoid Three Cs in their everyday life*4. Yahoo! JAPAN hopes that this function will help users to avoid congestions when they go out for daily shopping or on holidays to amusement facilities.
*4 Yahoo! JAPAN News poll – "Have you been able to avoid Three Cs in your daily life?" (Japanese only)
Yahoo! JAPAN will strive to further improve its services to support users in avoiding congestion as well as promoting "new lifestyles" through its services related to outings.
<How to Check Congestion Status>
Search by store/facility name. Tap the store displayed in the search result list. The congestion status can be checked from the store's detailed information.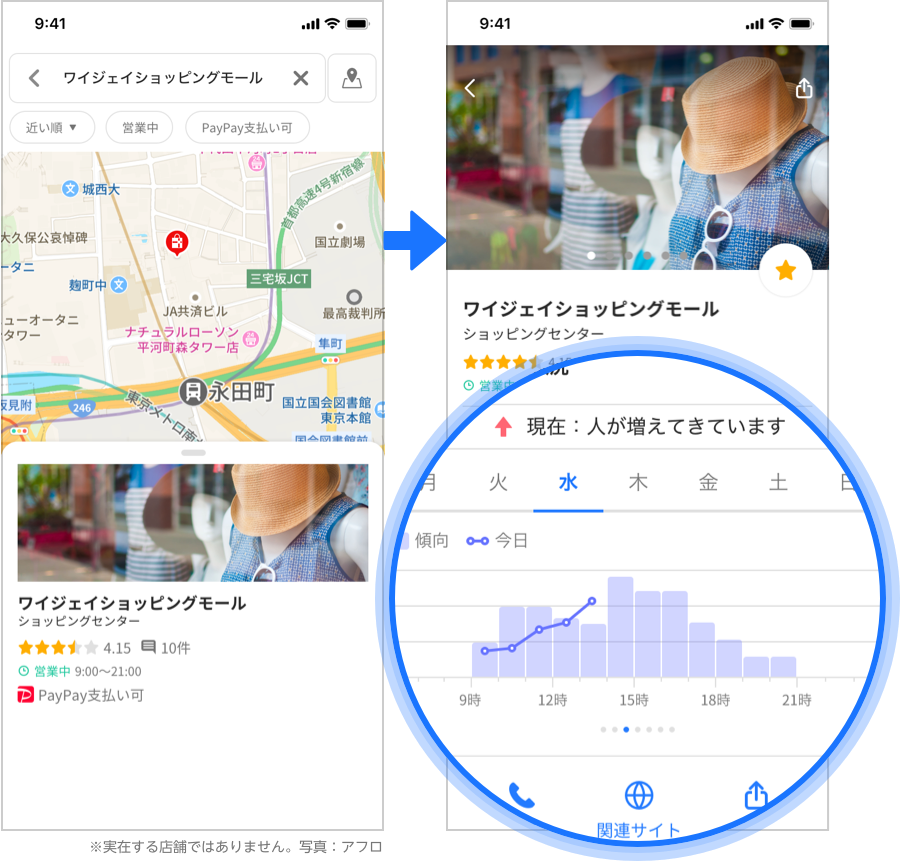 (Photo in the image: Aflo) (For illustrative purposes only)
Unless otherwise specified, English-language documents are prepared solely for the convenience of non-Japanese speakers. If there is any inconsistency between the English-language documents and the Japanese-language documents, the Japanese-language documents will prevail.