Yahoo Japan Corporation ("Yahoo! JAPAN") has numerous programs that are original and free from old ideas. Here we introduce flexible working styles that enhance creativity, opportunities for employees to extend their fields outside of the company.
Flexible Working Environment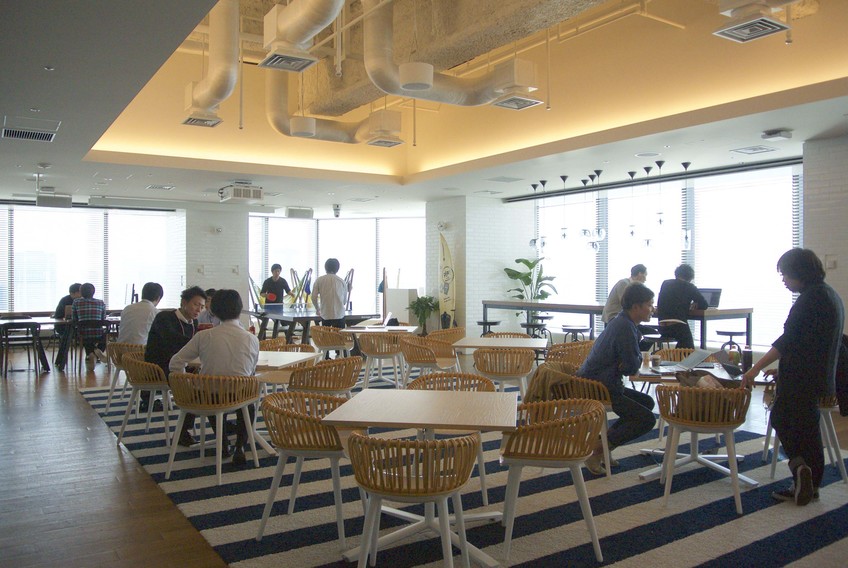 We have adopted a working environment that embodies a corporate culture in which employees work independently and autonomously toward their respective goals.
Flextime System
A system where employees can choose when to begin and end work, within a certain time frame.
Dokodemo Office (Office Anywhere)
A system where work may be done wherever it can reasonably be executed, without relying on a specific location, for the purpose of increasing performance. 87.0% utilization rate among employees in fiscal 2017.
Loan of iPhones and laptop PCs
iPhones and laptop PCs are lent to all employees. With tethering enabled for iPhones and a special mechanism embedded in laptop PCs, they can be connected to the internal network from any location. Employees can choose either Mac or Windows OS for the laptop PC. Mac users can also choose from JIS or US keyboards.
Free-address (Hot desking)
Employees are free to work at any desk available on that day. This aims to create an innovative environment where information intersects and where new connections are created.
Internal Communication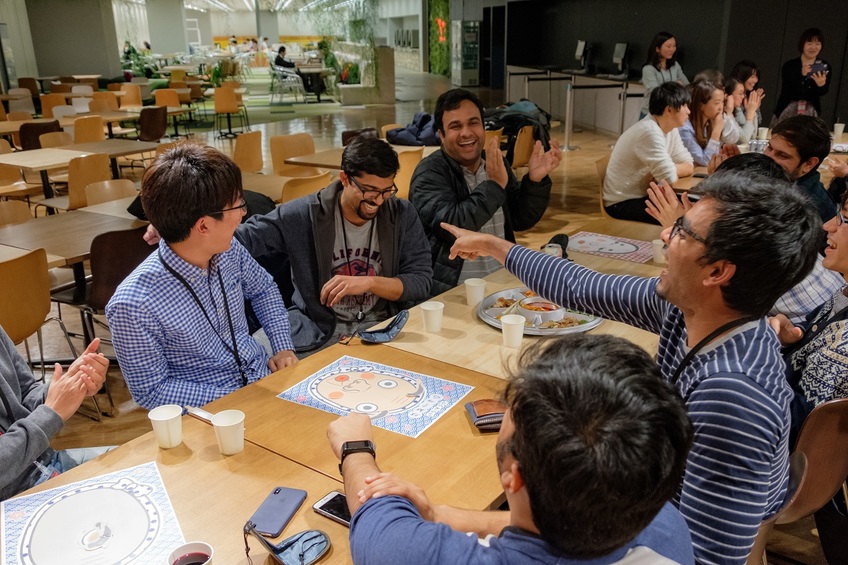 We employ a variety of tools and events to promote communication among employees. In addition to utilizing the internal company website, through which information is distributed internally, and events where the president and other executives communicate important information including company policies, we have opened a company restaurant and café to serve as a location for employees to communicate beyond work. Moving on, we will continue working to vitalize companywide communication so that employees can play an active role.
Use of Internal Website
We have established the internal company website as the access point for companywide communication and tools. Employees can contribute freely to the website, not only work-related information, but about the benefits system, club activities, and more. Executive messages and various company events are also posted daily through the company newsletter. In addition, we have created an environment where employees can communicate unreservedly with executives and people from other departments by using communication tools.
Hack day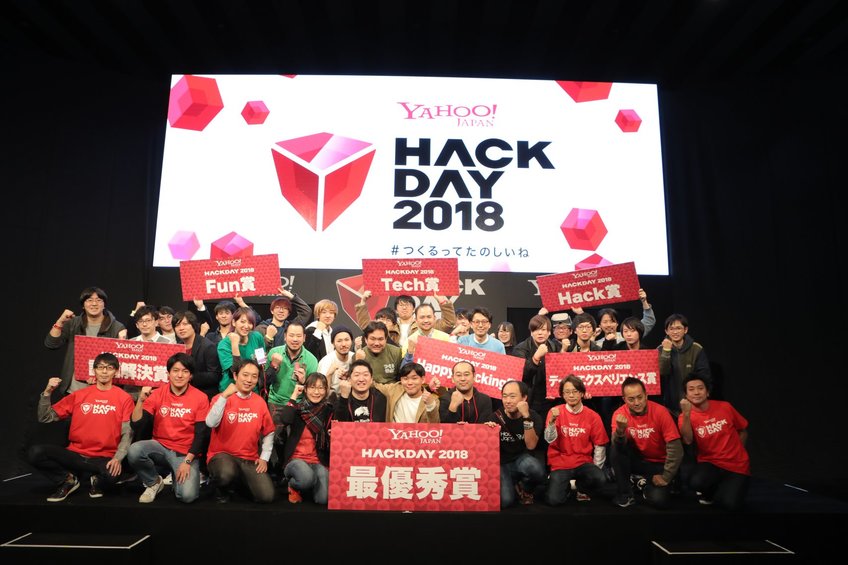 "Hack Day" is an event in which participants freely come up with ideas, develop and announce their prototypes within a 24 hour limit. This is held twice a year and in the winter Hack Day, named "Open Hack Day Japan", Yahoo! JAPAN employees and publicly invited non-employees both compete their originality and creativity. In recent years, Hack Day is a popular event that attracts over 300 participants. It is brimming with creative ideas leveraging free thinking and technologies of one's choice. There are products that have originated from this event. There are other events such as "Hackathon/Ideathon" where ideas are formulated and prototypes are implemented within a limited time, according to a specific theme in cooperation with various departments within the company and with sponsor companies. Also, "Hack U" is an event in which university students learn the joy of creation. Yahoo! JAPAN is full of opportunities in which engineers can unlock their own ideas, talent and passion.
Certification programs
KURO-OBI (Black belt) System
Yahoo! JAPAN assigns KURO-OBI (black belt) to talented employees with expertise and support their activities. KURO-OBI is defined as "a forerunner with outstanding knowledge and skills in a specific field" who can make contributions through awareness activities in and out of the company using their specialist skills, and who can contribute to the growth of specialist skills in the company. When appointed as a KURO-OBI, one-time reward and an annual budget are granted. In their own fields, the assigned will pursue activities that contribute to the growth of specialist skills in the company as well as extend information and appeal technical skills out of the company. As part of the awareness activity, internship by KURO-OBI and meetups are occasionally held.
OSS developer certification program
This is a program which certifies selected employees as developers for OSS (open source software) which is strategically adopted by Yahoo! JAPAN. Time used for developing specific OSS is regarded as work hours and a maximum of JPY 1 million budget is granted for the certified employees to work as OSS committers.
Company events
We hold a variety of company events designed to deepen connections between employees. Going forward, we will continue to build a work environment that enables employees and their families to strengthen the bonds between them.
Clubs
Yahoo! JAPAN provides many occasions in which employees can actively communicate with each other regardless of the departments they belong to. Clubs within the company are one such occasion and Yahoo! JAPAN provides subsidies to support the activities and allows the use of conference rooms.
Family Day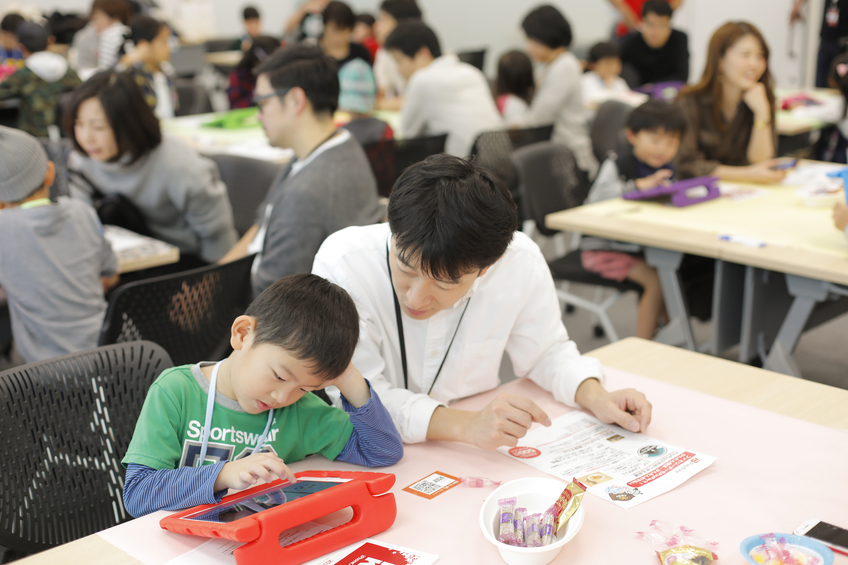 Families of employees are invited to the office to learn about the company and the day-to-day work of our employees. This event was conducted at five locations in fiscal 2017, with a total of roughly 2,300 family members participating.
Yahoo! Meeting・Y! J Link
Yahoo! Meetings (YMs) for executives and employees are conducted once a year for all offices and all group companies to gather together. In addition, there are companywide morning meetings held at the beginning of each month to communicate management policies to employees, as well as Y! J Link events for employees to directly ask executives questions and speak on various subjects. By conducting such events, we strive to create a work environment open to communication.
Globally hired employees
Yahoo! JAPAN offers opportunities to those who have the will to self-develop and those with ambition, regardless of age, gender, or nationality. Employee volunteers and the human resources department work in tandem to carry out internal awareness-raising activities with the aim of fostering a culture that removes barriers for international employees and encourages employees to interact with different people. In 2017, we held events to promote cross-cultural exchange and cross-cultural understanding, as well as to build a network among international employees.