- Using geolocation big data to make highly accurate predictions of heatstroke risks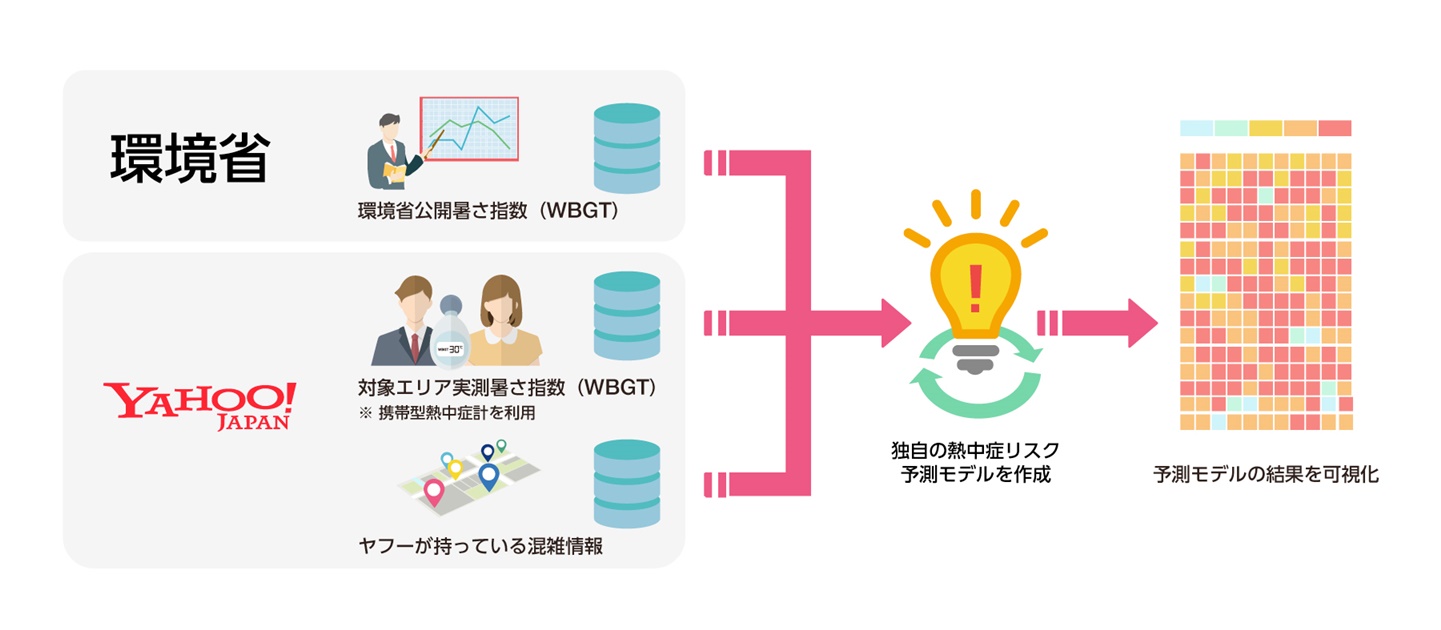 Yahoo Japan Corporation ("Yahoo! JAPAN") will collaborate with the Tokyo Metropolitan Government starting from August 1, to conduct a verification experiment in the Tokyo area for predicting heatstroke risks in crowded places such as event venues. The experiment will combine open data from public offices with Yahoo! JAPAN's big data and AI technologies to make highly accurate predictions.
In the experiment, open data on the WBGT (wet bulb globe temperature; heat stress index) published by the Ministry of Environment on their "Heat Illness Prevention Information" page for preventing heatstroke, is combined with congestion information derived by Yahoo! JAPAN's geolocation big data. Congestion is a factor that is considered to raise the heat stress index. By combining and analyzing these big data using AI technology (machine learning), a unique prediction of heatstroke risks is given per unit areas of approximately 125 meters square.
Drawing on congestion information, the experiment aims to bring out highly accurate and precise predictions of heatstroke risks that are particularly high in congested areas, such as in and around event venues.
Based on the experiment, further verification and enhancements will be made so that predictions can be incorporated in the heat stress prevention measures implemented by the Tokyo Metropolitan Government. Yahoo! JAPAN also aims to develop a service in this area.
The experiment is part of the Tokyo Metropolitan Government's heatstroke prediction demonstration experiment project which explores the potential usage of big data analytics technologies.
As announced in its DATA FOREST Initiative in February 2018, which promotes the linkage of big data between companies, Yahoo! JAPAN places great importance on big data linkage with public administration. As a first step of this linkage, the company will actively promote initiatives in redesigning cities, such as this verification experiment.
Unless otherwise specified, English-language documents are prepared solely for the convenience of non-Japanese speakers. If there is any inconsistency between the English-language documents and the Japanese-language documents, the Japanese-language documents will prevail.