Yahoo Japan Corporation
LVC Corporation
-
Enables unique and irreplaceable NFTs to be easily traded in YAHUOKU!

Yahoo Japan Corporation (Head office: Chiyoda-ku, Tokyo; President and Representative Director, CEO: Kentaro KAWABE; hereinafter "Yahoo! JAPAN") and LVC Corporation (Head office: Shinagawa-ku, Tokyo; CEO: Inkyu LIM; hereinafter "LVC"), a subsidiary of LINE Corporation (Head office: Shinjuku-ku, Tokyo; President and Representative Director, CEO: Takeshi IDEZAWA; hereinafter "LINE"), have decided to collaborate in the field of NFT business to expand the secondary market. LVC is an operator of LINE's cryptoasset and blockchain businesses. NFTs based on LINE Blockchain, LINE's proprietary blockchain, are scheduled to be available for trading on YAHUOKU!, an online auction service provided by Yahoo! JAPAN, beginning this winter.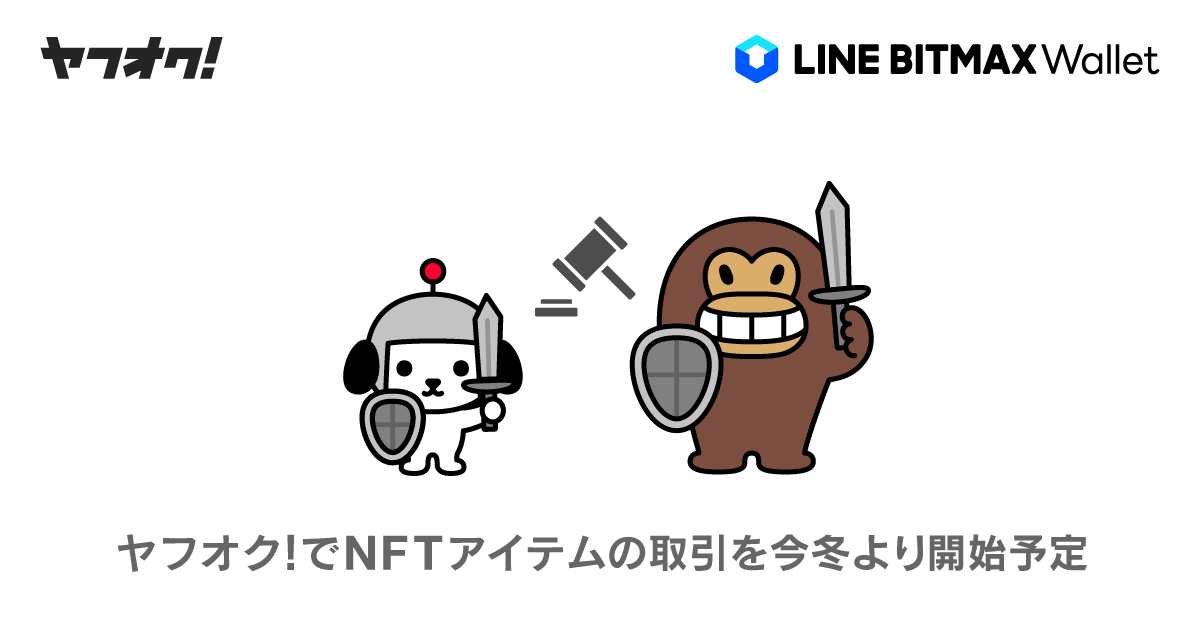 An NFT (Non-Fungible Token) is a unique and irreplaceable digital token on the blockchain,
which is a mechanism to prove the uniqueness and the owner of digital items and content. Until now, the hurdle to participate in trading NFT items has been high, as it requires procedures on a dedicated platform.
Since August 2020, LVC has provided LINE BITMAX Wallet*1, a digital wallet for managing digital assets such as NFTs that are issued in LINE Blockchain. In June 2021, LVC has also began providing NFT Market β, which enables the trading of NFTs within LINE BITMAX Wallet*2. The official version is scheduled to be released this summer, and LVC aspires to provide a No. 1 NFT marketplace in Japan.
Through the collaboration between the two companies, YAHUOKU! will be a marketplace in which users can easily sell and bid on NFTs managed in LINE BITMAX Wallet, which are issued based on LINE Blockchain. Utilizing the auction mechanism where the price increases according to the market value, we will provide an NFT marketplace where more people can easily trade NFTs. We will also work with various partners to stimulate the distribution of valuable content and contribute to the expansion of the secondary market of NFTs.
Yahoo! JAPAN and LINE will strengthen their cooperation in numerous services, based on the premise of improving various issues related to the safety and security of users and data governance. By enhancing the synergy effects of the collaboration, we will provide the best user experience and strive to solve social issues.
Reference press releases:
*1 https://linecorp.com/en/pr/news/en/2020/3386
*2 https://linecorp.com/ja/pr/news/ja/2021/3813 (Japanese only)
Unless otherwise specified, English-language documents are prepared solely for the convenience of non-Japanese speakers. If there is any inconsistency between the English-language documents and the Japanese-language documents, the Japanese-language documents will prevail.