- Plan to expand services starting with applications related to childcare and nursing care
Yahoo Japan Corporation (hereinafter "Yahoo! JAPAN") today began the provision of a beta version of an online application service connected with the Cabinet Office's "Mynaportal*1" (hereinafter the "Service") at Yahoo! JAPAN Daily Life (smartphone ver.)*2. Yahoo! JAPAN is the first private company to collaborate on an online application service for administrative procedures.
The Service will first cover applications related to childcare, nursing care, and disaster victim support*3 and eventually expand the range of local governments and administrative procedures that can be connected with the Service.
*1 An online service that allows users to search and submit online applications for administrative procedures, including childcare and nursing care.
*2 Individual Number Card (commonly called "My Number Card," social security and tax number system adopted by the Japanese government) is required at the time of electronic signature for many applications. Installation of the "Yahoo! JAPAN" application (iOS version or Android version) is required to read an Individual Number Card.
*3 As of June 29, 2021, 25 standard-format administrative procedures are covered by the Service; six other procedures will be added on June 30, 2021, and additional 15 in the near future.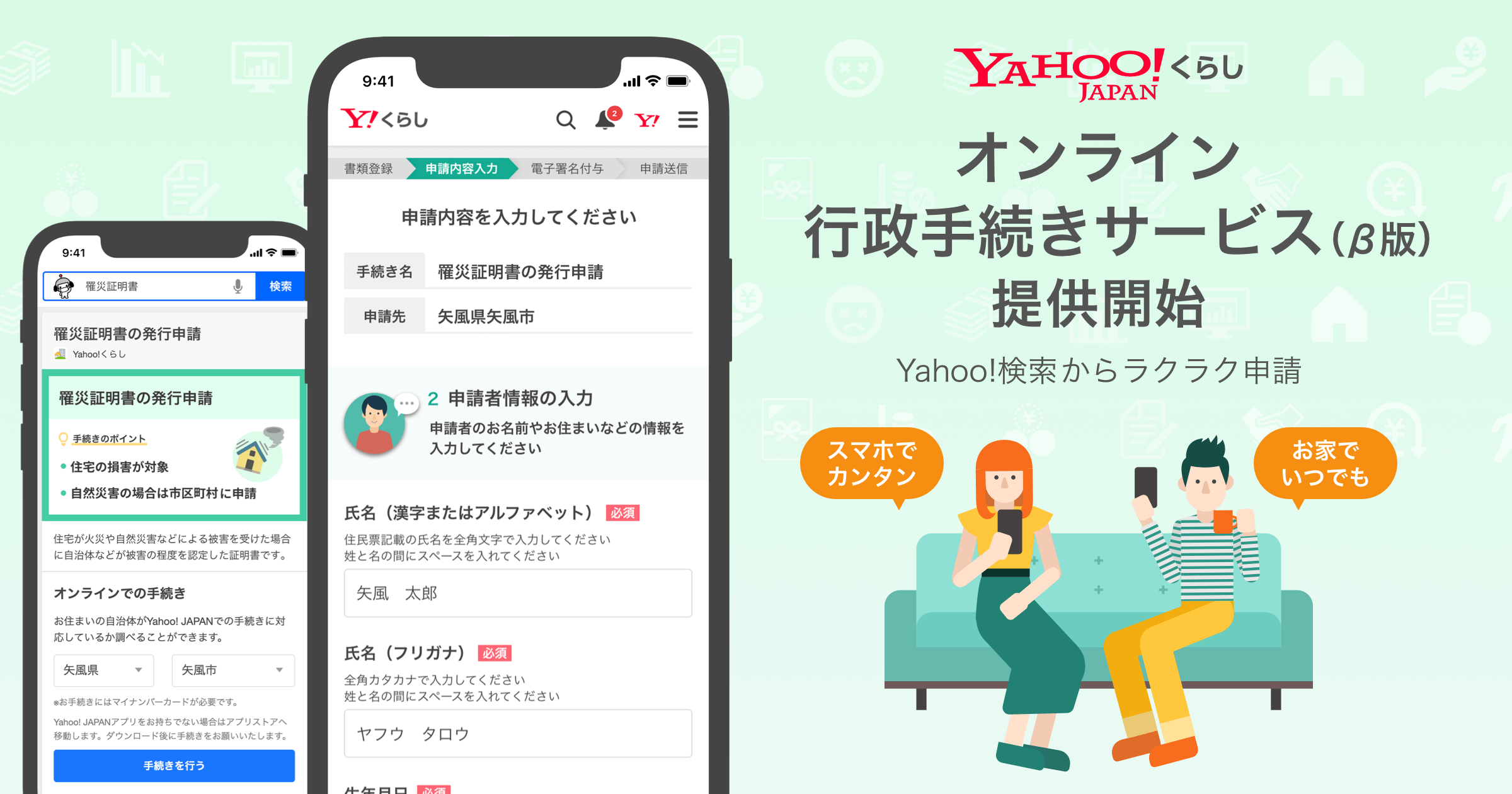 To make our users' life more convenient and to contribute to greater efficiency in the administrative operations of local governments, Yahoo! JAPAN aims to realize a world where government procedures required at different stages of life can be completed easily and in a stress-free way online.
Due to the impact of the spread of the new coronavirus since 2020, search behavior in Yahoo! JAPAN Search related to administrative procedures such as child allowance and nursing care insurance has increased 1.5 times in January 2021 compared to January 2020 before the pandemic. One reason for this is the high demand for information on how to avoid congestion at government offices and complete procedures online without having to go out. In the Suggestion Box we installed commemorating the business integration between Z Holdings Corporation, the parent company of Yahoo! JAPAN, and LINE Corporation on March 1, 2021, we received many comments that wanted us to make administrative services more convenient with the power of the Internet.
To solve these issues,Yahoo! JAPAN Daily Life has launched this Service which can seamlessly handle administrative procedures from Yahoo! JAPAN Search to applications.
Going forward, Yahoo! JAPAN will continue to collaborate with the Cabinet Office to expand the number of procedures and target municipalities where online applications are available, with the aim of promoting digital transformation in Japan's public administration and, by extension, solving its social issues.
Unless otherwise specified, English-language documents are prepared solely for the convenience of non-Japanese speakers. If there is any inconsistency between the English-language documents and the Japanese-language documents, the Japanese-language documents will prevail.