- Yahoo! JAPAN to begin service improvements, enabling deeper analysis of big data collected from queries
Yahoo Japan Corporation (hereinafter "Yahoo! JAPAN") is pleased to announce that two hundred companies have adopted its data solutions service for business operators in about 120 days after service launch on October 31, 2019, double its initially set March 2020 target of 100. Service improvements have also begun, and as a first step, the maximum number of search keywords displayed in DS.INSIGHT People, a browser-based tool that enables research and analysis of big data collected from Yahoo! JAPAN Search, has been increased fourfold to 2,000.
Yahoo! JAPAN's data solutions service utilizes big data collected through the company's diverse services. It assists businesses and local governments with data analysis in all areas, from product and service development to their provision, and enables data-driven strategies for creating and growing businesses and solving social problems. Currently, there are two types of services: DS.INSIGHT (People/Place), which is a browser-based tool for research and analysis of Yahoo! JAPAN's big data; and DS.ANALYSIS, which provides analysis results on big data not provided by DS.INSIGHT (People/Place), and consulting services to support utilization, according to the needs of the user companies and municipalities.
*Currently, all information provided to user companies and municipalities through this service is statistical data, and no personal data including anonymously processed information is provided. Personal data refers to information that can directly or indirectly identify a customer as an individual.
The 200 business operators that have introduced this service come from diverse fields, ranging from manufacturers and service companies in the retail, insurance, food, daily commodities, apparel, and other industries to local governments and universities. They also vary in size, from large corporations, small- and medium-sized companies to startups.
The breakdown is as follows:
Manufacturing: 14%
Services: 36%
Media/entertainment: 16%
Internet/information processing services: 31%
Public services: 3%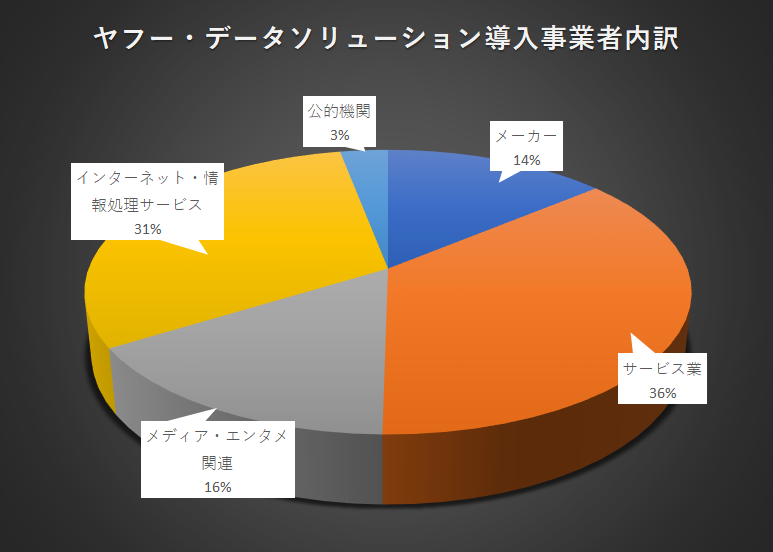 Breakdown of Yahoo! JAPAN Data Solution Users
Previously, the maximum number of search keywords that could be displayed with DS.INSIGHT People was 500. The system was updated on February 13, and can now display up to 2,000 keywords, enabling deeper analysis using big data collected from Yahoo! JAPAN Search.

Going forward, Yahoo! JAPAN plans to not only improve the service but also add new functions, such as a "journey function" that will allow users who search for a characteristic keyword to see the keywords that were searched before and after the search. Yahoo! JAPAN will continue to improve the service and add functions as needed based on the requests of businesses, aiming to make the service available to as many business operators as possible.
A hands-on lab DS.LAB is set up in the company's Kioicho Office where prospective customers can try operating DS.INSIGHT and see the analysis results of their interested keywords. In DS. LAB, seminars are also held as needed to share know-how and case studies on data utilization for business operators considering the introduction of the service. Applications for the trial space and the service are available on Yahoo! JAPAN's Data Solution Service website.
*As of the day of this announcement, the company is considering holding seminars online considering the COVID-19 safety concerns. The use of DS.LAB may also be temporally suspended depending on future situations. For updates, please check the service website.
In addition to respecting the privacy of its customers, Yahoo! JAPAN believes that its responsibility is to protect the information related to that privacy. At the same time, through its data solutions business, Yahoo! JAPAN will unleash the power of big data throughout Japan to make people's lives more convenient and richer through information technology and encourage data-driven solutions throughout Japan.
■Yahoo! JAPAN Data Solutions Service Website (Japanese only)
Unless otherwise specified, English-language documents are prepared solely for the convenience of non-Japanese speakers. If there is any inconsistency between the English-language documents and the Japanese-language documents, the Japanese-language documents will prevail.