Market Condition
Media Business
Advertising
According to industry data compiled by DENTSU INC., total expenditures in the Japanese advertising market in calendar 2016 increased 1.9% year on year, to ¥6,288 billion, the fifth consecutive year of growth *1. While total advertising expenditures in the four traditional media markets of television, newspapers, magazines, and radio decreased 0.4% in calendar 2016, Internet-related advertising placement expenditures were up 12.9%, to ¥1,038 billion, exceeding ¥1 trillion for the first time. Steadily growing expenditures on Internet-related advertising largely reflect a shift in market demand toward products incorporating advanced distribution technologies that leverage large volumes of user-specific data. These and other products for which advertiser fees are calculated on a per-click basis now account for roughly 70% of all Internet-related advertising spending. At the same time, demand for video advertising has shown explosive growth in recent years and is expected to continue apace.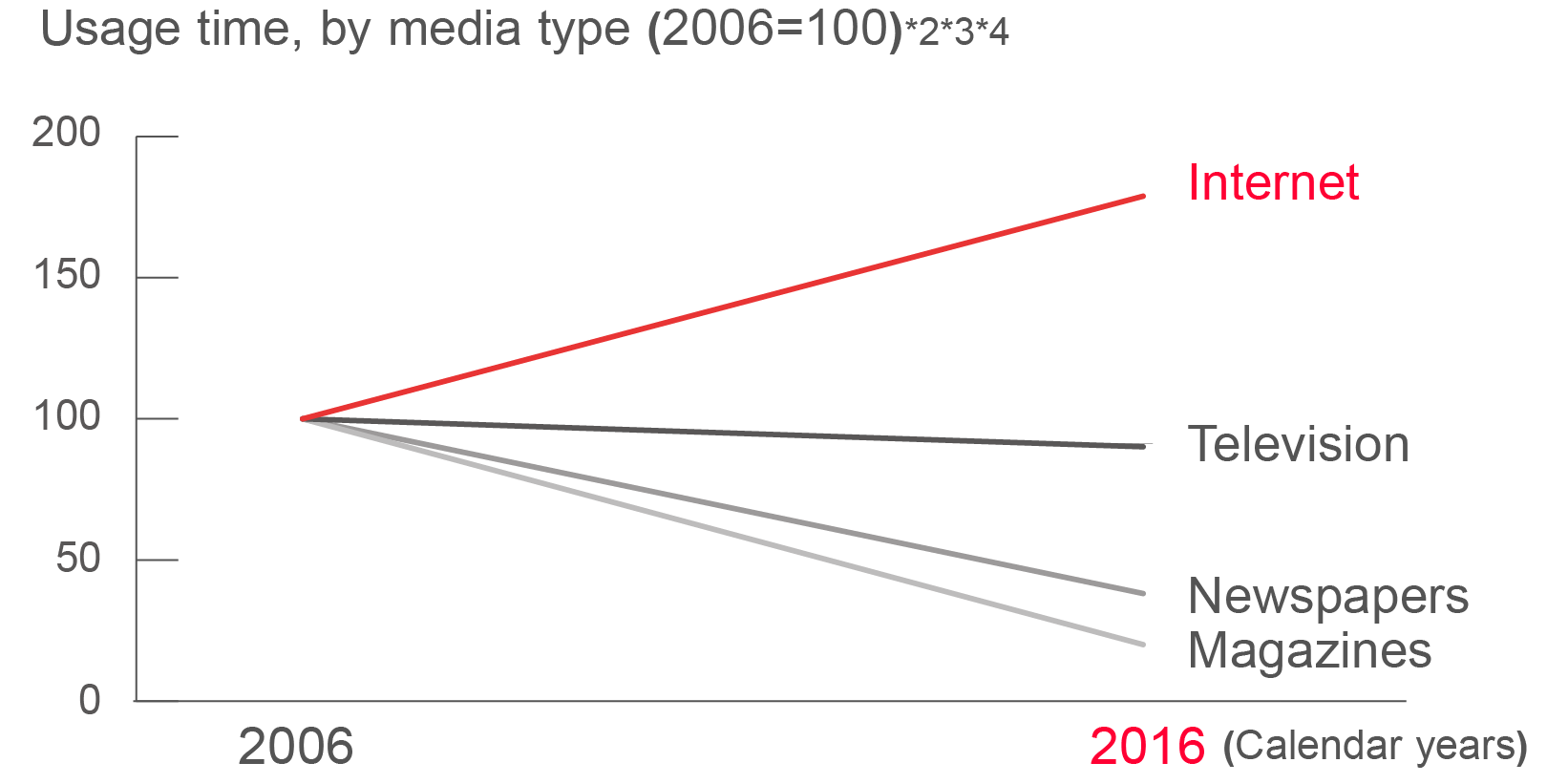 Source: 2016 Advertising Expenditures in Japan, DENTSU INC.
Source: Media Contact Report (May–June 2006) and MCR/ex (Apri–June 2016), Video Research Ltd.
Survey period and scope changed in 2014
Calendar 2006 data indexed to 100
Source: Yahoo Japan Corporation, based on DENTSU's 2016 Advertising Expenditures in Japan
Commerce Business
e-Commerce
According to a survey by the Ministry of Economy, Trade and Industry *1, the Japanese business-to-consumer (B2C) e-commerce market expanded 9.9% in calendar 2016, exceeding the ¥15 trillion mark for the first time. The productrelated e-commerce segment's transaction value was approximately ¥8 trillion, up 10.6% year on year, with an e-commerce ratio of 5.4% in calendar 2016 compared with 4.8% a year earlier. Japan's e-commerce ratio remains low by international standards, implying strong growth potential moving forward. The online auction market recorded approximately ¥1.1 trillion in transaction value in calendar 2016, with online flea-market auctions attracting growing user interest. The service-related e-commerce segment recorded about ¥5.3 trillion in transaction value, a 9.2% rise, with travel services the most significant component. In restaurant services, which recorded the highest growth rate in calendar 2016, the online reservation market is expanding thanks to a surge in the number of establishments with Internet-based booking facilities. The digitalrelated e-commerce segment was worth approximately ¥1.7 trillion, up 8.9% year on year, of which about 70% was generated by online games, although e-book, paid video, and music distribution markets continued to broaden.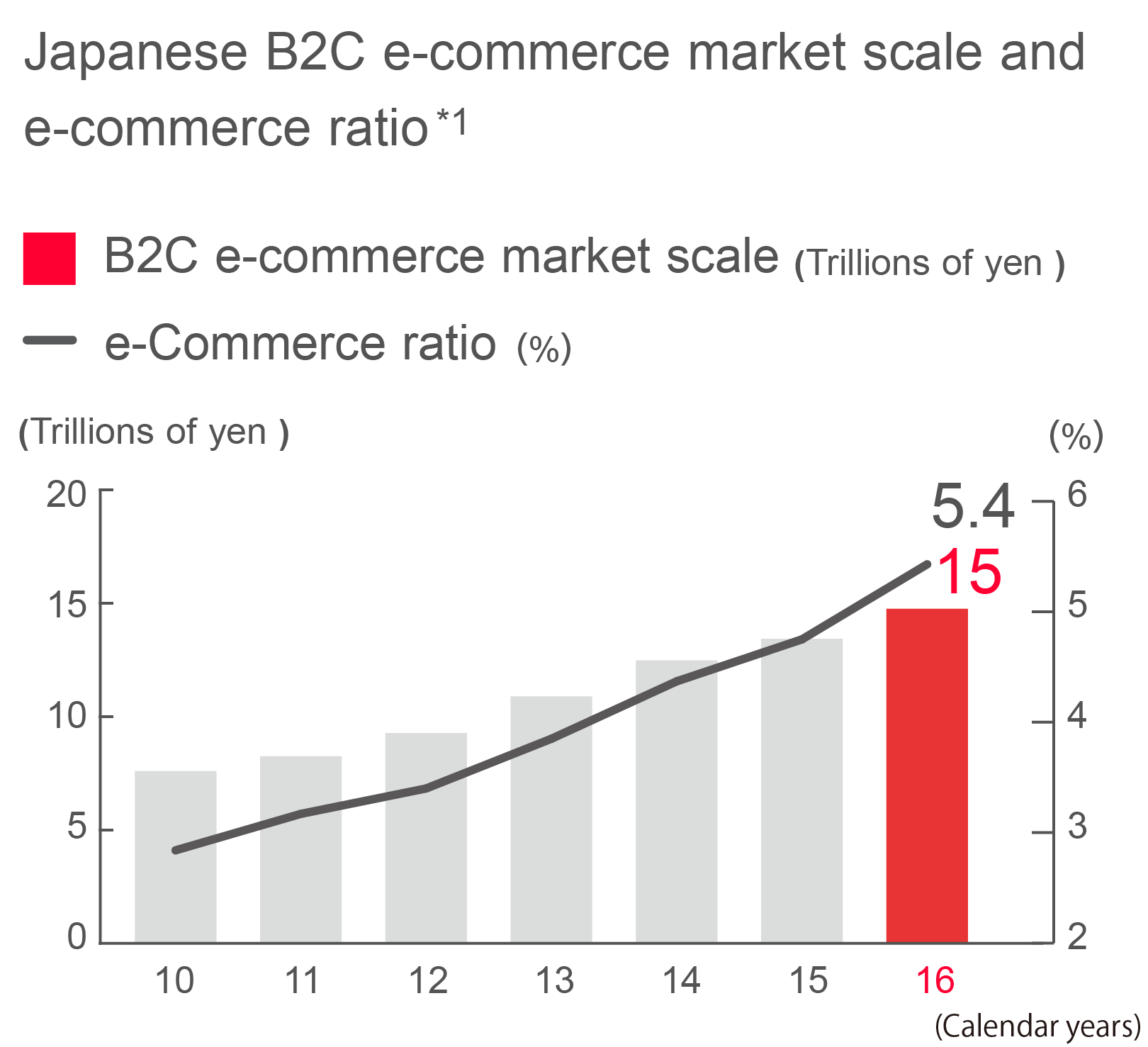 Source: 2016 Foundation for Japan's Data-driven Society (Market Research on Electronic Commerce Transactions), Ministry of Economy, Trade and Industry
Financial and payment
Credit card utilization in Japan has shown upward momentum in recent years. In calendar 2016, the domestic credit facility amount, a measure of actual credit card utilization volume, was approximately ¥53.9 trillion, up 8.2% from the previous year and the first time that the figure exceeded ¥50 trillion1. This rise is attributable to the expansion of the domestic e-commerce market, a proliferation of loyalty reward systems such as point and mileage, and a broadening scope of card usage that now includes the payment of taxes and medical bills. The transaction value of electronic payment services linked to credit or debit cards is expected to rise steadily in coming years. In view of the recent increase in smartphone-based electronic payments, we expect further payment method diversification moving forward.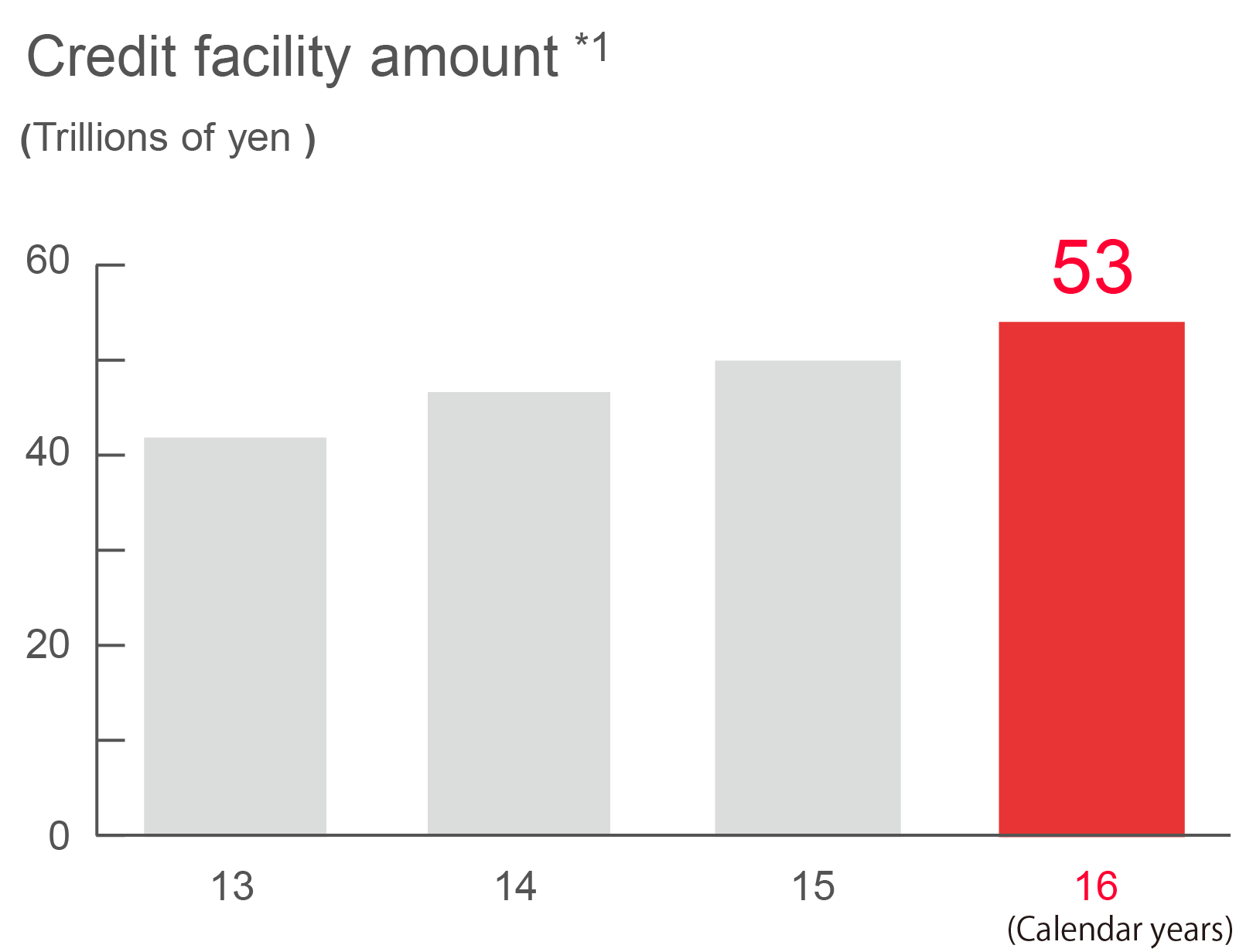 Source: 2016 Market Statistics (Annual) (credit-related statistics), Japan Consumer Credit Association
Source: Yahoo Japan Corporation, based on credit facility amounts provided in 2016 Market Statistics (Annual), Japan Consumer Credit Association's credit-related statistics, private consumption figures in Annual Nominal GDP (calendar year), GDP (expenditure approach) and its components (at June 8, 2016), Cabinet Office