Financial Trend (Quarterly, IFRSs)
Fiscal Year | Quarter
| (Millions of yen) | '16/1-3 | 4-6 | 7-9 | 10-12 | '17/1-3 |
| --- | --- | --- | --- | --- | --- |
| Revenue | 207,028 | 204,260 | 205,335 | 221,361 | 222,773 |
| Marketing Solutions Business | 72,002 | 65,542 | 69,676 | 70,138 | 76,158 |
| Consumer Business | 123,526 | 124,041 | 122,108 | 134,979 | 130,669 |
| Others | 14,637 | 17,449 | 16,311 | 19,152 | 18,687 |
| Adjustments | -3,137 | -2,772 | -2,761 | -2,908 | -2,742 |
| Operating Income | 29,914 | 50,877 | 49,508 | 51,772 | 39,891 |
| Income before Income Taxes | 28,105 | 51,245 | 48,917 | 52,799 | 40,512 |
| Net Income Attributable to Owners of the Parent | 18,085 | 35,508 | 33,611 | 35,680 | 31,790 |
| Operating Margin (%) | 14.4% | 24.9% | 24.1% | 23.4% | 17.9% |
| Ratio of Income before Income Taxes to Revenue | 13.6% | 25.1% | 23.8% | 23.9% | 18.2% |
| Ratio of Net Income Attributable to Owners of the Parent to Revenue | 8.7% | 17.4% | 16.4% | 16.1% | 14.3% |
| Total Assets | 1,342,799 | 1,303,503 | 1,379,586 | 1,470,093 | 1,534,212 |
| Total Equity Attributable to Owners of the Parent | 844,165 | 828,835 | 860,390 | 896,944 | 930,820 |
| Cash Flows from Operating Activities | 29,992 | 10,271 | 47,711 | 18,250 | 50,789 |
| Cash Flows from Investing Activities | -105,159 | -18,358 | -13,620 | -15,253 | -9,814 |
| Cash Flows from Financing Activities | 3,755 | -40,593 | 19,727 | -5,990 | 50,852 |
| Total Cash Flows | -71,663 | -48,946 | 53,747 | -2,666 | 91,767 |
| Number of Directors and Employees (People) | 9,240 | 9,841 | 10,964 | 11,262 | 11,306 |
(Note)Adjustments figures represent inter-segment transactions and general corporate expenses not belonging to any reporting segment.
Made Ikyu Corporation to a consolidated subsidiary on February 3, 2016.
The group recorded the damages of ¥13.0 billion as Other Expenses in Jan.-Mar. quarter of the fiscal year ended March 31, 2017 as a result of the fire incident at the logistics center of ASKUL Corporation.
In the case where any major service has been transferred between segments, the prior data have been retroactively adjusted to the current segments.
Data for Total Assets, Equity Attributable to Owners of the Parent and Number of Directors and Employees are as of each quarter end.
Number of Directors and Employees includes staffs who have been dispatched.
Revenue (Quarterly)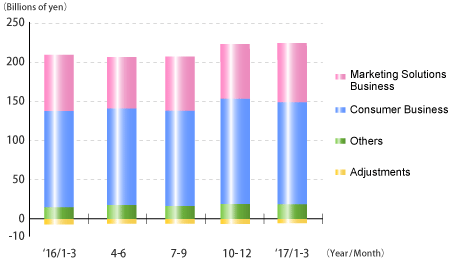 Profits (Quarterly)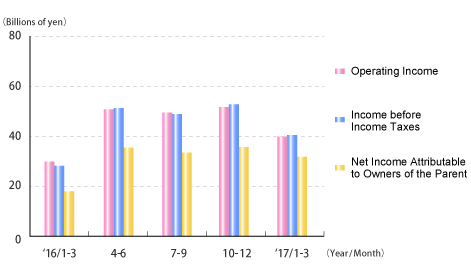 Profit Margins (Quarterly)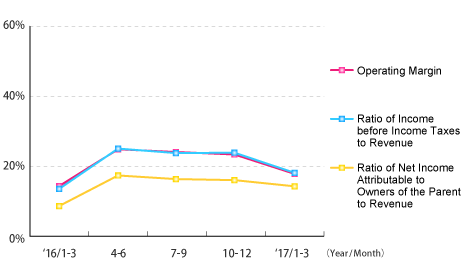 Total Assets and Total Net Assets (Quarter Ends)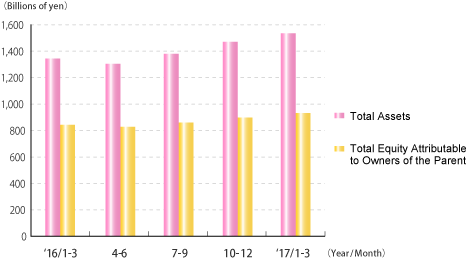 Cash Flows (Quarterly)