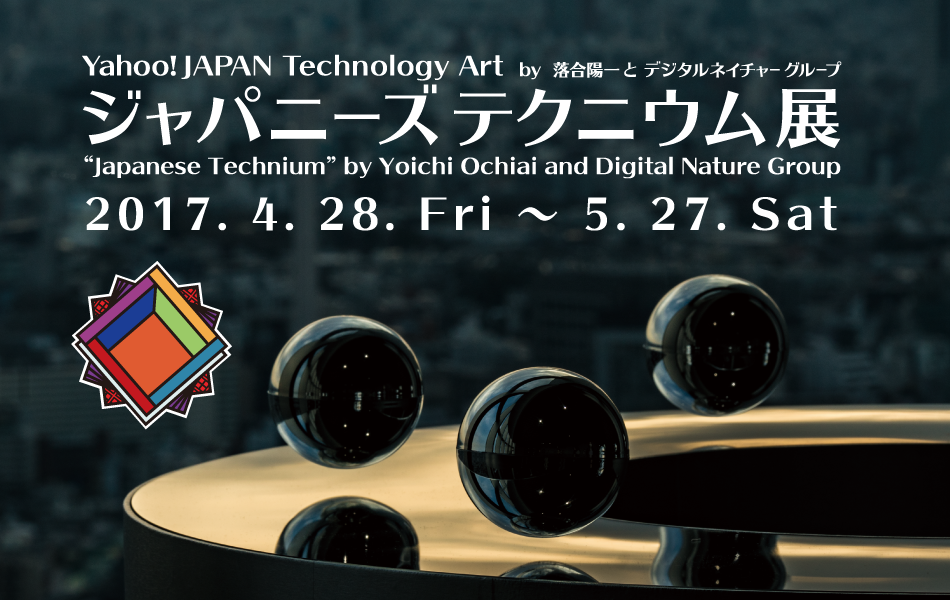 Dr.Yoichi Ochiai has been exploring the possibilities of expression between images and substances as a media artist. He also has been organizing "Digital Nature Group" in University of Tsukuba based on what he founds "the theme of updating modern humanity" in this exploration. This exhibition aims to look back on these researches and discoveries, belonging to the social questions from both aspects of technical and the artistic point of view. The word "Technium" refers to both ecological and genetic views of technology and its originally proposed by Kevin Kelly, the ex-chief editor of WIRED. This is the concept that technologies themselves have ecological views beyond the sort of creature and computers. The name of this exhibition "Japanese Technium" stands for "Japanese Media Motif" that Dr. Ochiai has discovered in his exploration as a media artist. He believes that "Japanese Technium" has been generalized by this industrialized society, dilution by this popularized media and subcultures, it is a new nonverbal expression by aesthetic sense and embodiment by Japanese point of view.
About
Duration 
April 28, 2017 (Fri) - May 27 (Sat)
Open 
Monday-Friday: 16:00-21:00
Saturday, Sunday and Holidays: 13:00-21:00
(Last admission 30 minutes before closing.)

Admission 
Free admission.
We request you to write down your name and phone number, and to present your ID upon admission.
The following are accepted as ID:

1) Passport
2) Resident card
3) Special permanent resident certificate
4) Certificate of alien registration (limited however to that with special permanent resident as status of residence)
5) Driver's license
6) Individual Number Card (including basic resident registration card with a photo that can be regarded as Individual Number Card)
7) Certificate of: health insurance, national health insurance, seamen's insurance
8) Certificate of mutual aid association
9) National pension book
10) Pension handbook
11) Student ID, identification card issued by an employer, or identification card issued by public authorities (e.g. Rehabilitation Certificate or Physical Disability Certificate); with a photo
*Method of admission may change during the exhibition dates without notice.
Access
Yahoo Japan Corporation
18F Kioi Tower, Tokyo Garden Terrace Kioicho,
1-3 Kioicho, Chiyoda-ku, Tokyo, Japan
By Train
Tokyo Metro Nagatacho Station: Directly connected to exit 9a
Hanzomon Line (Z)
Yurakucho Line (Y)
Namboku Line (N)
Tokyo Metro Akasaka-mitsuke Station: 1 minutes walk from exit D
Ginza Line (G),
Marunouchi Line (M)