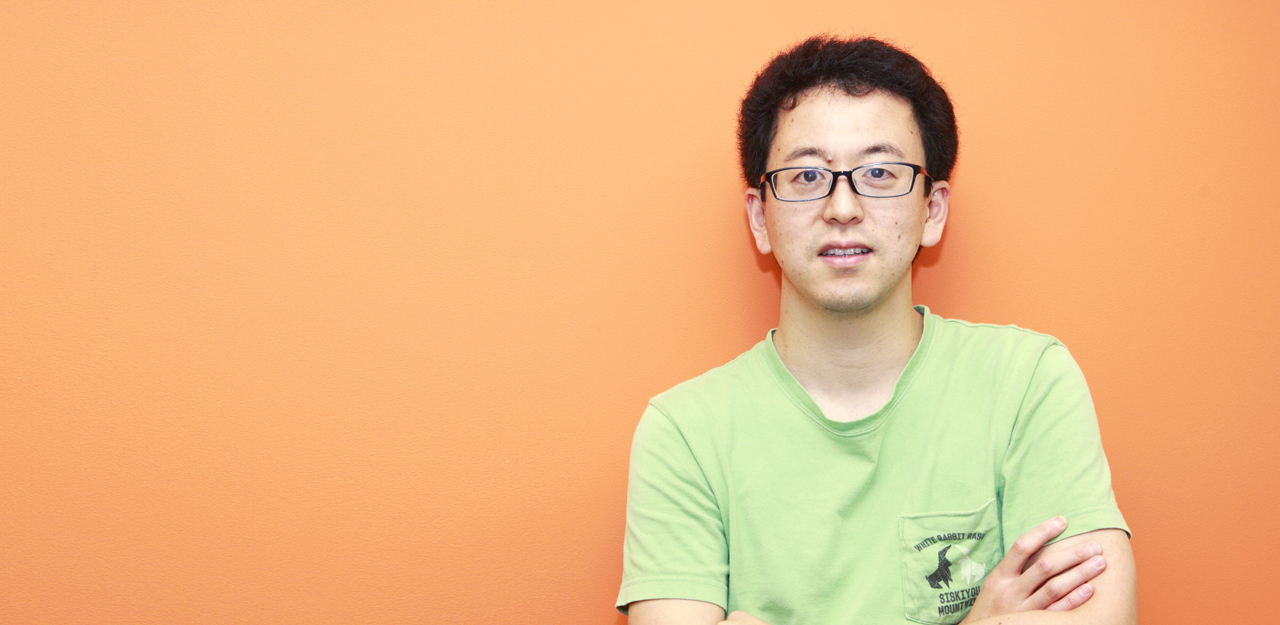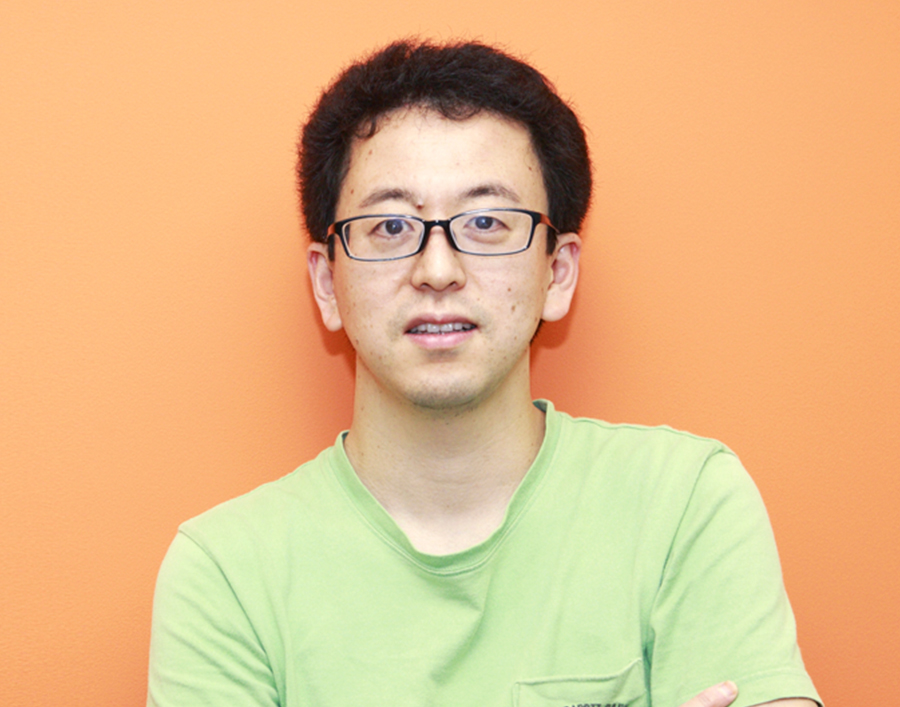 Goal: To present papers at important conferences and "super-understand" users
Kota Tsubouchi
Yahoo! JAPAN Research
Context Aware Computing
Until March 2012, researched on-demand traffic systems at Tokyo University. Data scientist and senior research at Yahoo! JAPAN Research since April 2012.
Researching data analysis with a focus on human activity logs (location information, search logs, shopping history, sensor data, etc.).
My mission is to present papers at prestigious academic conferences
I was looking for a research job when I heard about Yahoo! JAPAN Research. The reason I chose it was simply because it had a high "N" – in other words, lots of data samples! (laugh) The idea of being able to do research using an overwhelmingly huge amount of data was attractive.
I was doing research into "on-demand traffic" before I started at Yahoo! JAPAN Research. It was a system whereby a bus would run on the optimal route according to the passenger's demand, and in particular I was interested in analysing the data obtained from the bus's operation. When do the passengers get on, and when do they get off? What area are they coming from, heading toward which shopping center? A lot of things come up when you look at the data. Things like discovering that using the bus when they go out is good for elderly people's health, and giving consideration to the future of a particular area.
At Yahoo! JAPAN Research, where I work, one of the missions for the researchers is to have papers accepted by one of the top conferences in the world. The standard for achievement is clear: it's the number of papers accepted. I myself have been fortunate enough to have a number of papers accepted at prestigious conferences. Yahoo! JAPAN has a huge amount of data that can we in Yahoo! JAPAN Research can use, so I can recommend it as a workplace if you want a career in research.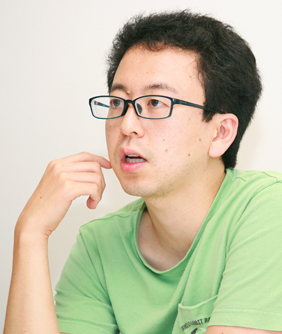 If you have location information, you can find out a lot of things
My research theme is "context awareness." In particular, I'm working actively on sensor data and location information research. I've had papers accepted at major conferences in this field, and I steadily continue to publish them.
With the advent of smartphones, the types and range of available data changed greatly. These days, it might even be the case that people use their smartphones to browse the web more often than they sit in front of their PCs. The difference between a PC and a smartphone is the sensor data. When and from where the user is accessing the web can be seen by looking at location information, ambient lighting, motion and other data.
I'm working particularly hard on location information. Using location data, we can predict, for instance, "how many people will be in a certain area of Japan at this time next week." We can also distinguish between the movement patterns of people who are returning to their family home for a visit and those who are setting out on a trip. We can also change the appearance of news articles that users browse on their smartphones depending on their circumstances.
With this kind of approach, privacy protection is also an important issue. We use data obfuscation and other techniques so that users can't be identified.
I have the feeling that sensor data, as a research theme, is in a different dimension from web log analysis in the past. In addition to the data used for analysis until now, we have location information, and then if we apply machine learning, we achieve much greater precision than before.
By way of analogy, with search service analysis we could only see inside the user's head. But with the addition of location information, we can see the outline of the user's body. In this way, we get an even clearer picture.
My research goal – and this is a word I coined – is to "super-understand" users. For example, to be able to say: "Because Yahoo! JAPAN understands you well, we can provide you with an extremely comfortable Internet environment."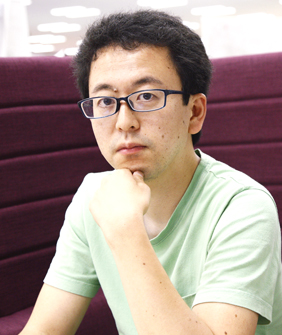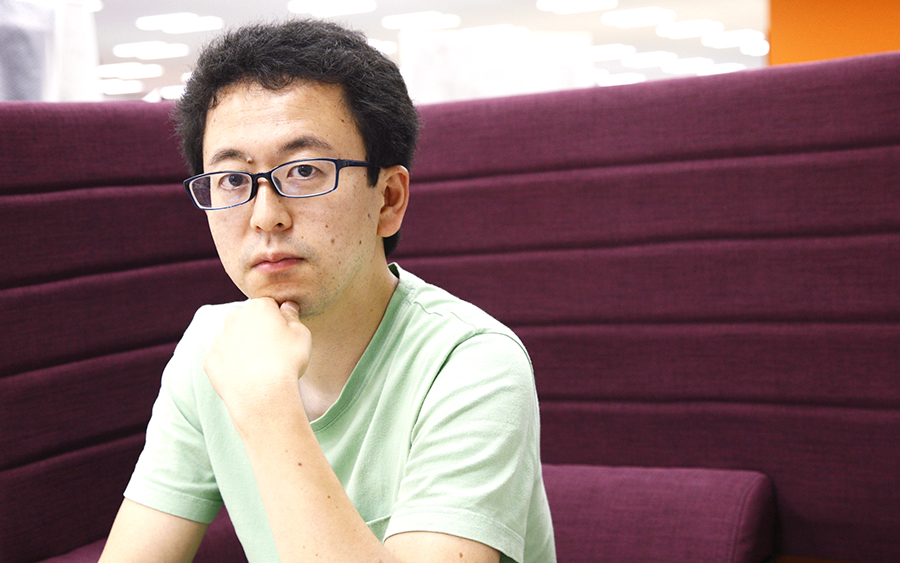 Giving data analysis advice to my colleagues
I'm not totally preoccupied with research to the exclusion of business, though. We have in-house seminars, for instance, where I introduce new methods of data analysis. Then I get a lot of people coming to me saying "I want to use this data analysis method." And sometimes I get feedback, for example to the effect that using a new algorithm improved the prediction precision for ad click-through rate, and as a result sales grew annually by hundreds of millions of yen. The people actually doing the work are those in the business divisions, so it's not my direct achievement, but naturally it feels good to know that I'm making even a small contribution to our business.
Also, we publish the "Yahoo! JAPAN Big Data Report" based on analysis of large amounts of data. I was able to help as an advisor on the analysis methods. The analysis was only simple, but the results were quite surprising. For example, when there was an influenza epidemic, the wave of flu-related search words matched unexpectedly well with the number of affected individuals. So we were actually able to predict the epidemic using search word time-series analysis.
The other day, I was helping analyze the data from the Kumamoto earthquake in April 2016. How people act during an earthquake disaster was vividly reflected in the data, and it really struck me again how awesome data is.
These kinds of initiative are fascinating, but there's nothing particularly novel about the analysis methods and logic, so they aren't really topics for research papers. Having said that, analyzing data that reflects the real world is intriguing, so I'm interesting in taking part, too.
At Yahoo JAPAN Corporation you can collaborate with brilliant engineers
One difference between doing research in college and at grad school and doing research at Yahoo! JAPAN Research is the explicit division of roles, so that you can focus on your own responsibility. When I was researching on-demand traffic at Tokyo University, I had to do everything myself. I had to manage the data myself, apply for the intellectual property rights, make the fliers, and I've even given lectures at community centers and the like. At Yahoo JAPAN Corporation, I can focus on data analysis and do my research. For instance, there are separate teams specializing in security, and intellectual property, so I can ask the experts about those things and concentrate on my own research. It's an easy environment in which to work.
On top of that, I can pursue my work in collaboration with brilliant engineers. My specialty is data analysis, but the implementation part, like creating a way to gather and store large amounts of data, is outside my area of expertise. There are engineers in-house who are way better at that than I am. They've helped me, for instance, by reducing data aggregation time from three days to three hours. I'm grateful, and it's fun to work with them.
It's exciting to be able to do research using large amounts of data at Yahoo! JAPAN Research, and to work with brilliant engineers. If you ask me what's next in my career plan, I'd answer "I'll stay here as long as I'm still going strong as a researcher."
※ Information current as of August 2016.