Careers(global)
Message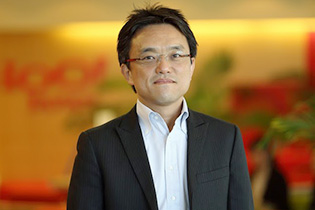 "Yahoo! JAPAN will become a People Development Company."
Yahoo! JAPAN's mission is to "solve the problems of people and society by using information technology".
"People" undertake the role of finding problems and solving them.
That is why we aspire to become a "people development company".
The concept behind people development is learning through experience.
We believe that "when one takes on a challenge, goes over the challenge and enjoys it, one can a learn a lot from such experience".
Yahoo! JAPAN has become a large scale company within in the internet industry.
There are abundant experiences to be gained because of this scale.
We are certain that there is no other place like Yahoo! JAPAN where people can develop in terms of learning through experience.
There are still many problems to be solved in the society.
"I want to solve the problems of society."
"I believe in the potential of information technology."
We want people with such aspirations to come to Yahoo! JAPAN.
And we sincerely hope that such aspirers can unlock their talent and passion in this environment.
Kosuke Honma (Executive Corporate Officer EVP, President of Corporate Management Group)
Guidelines for Applicants
Eligibility for Application
Foreign students(Not Japanese) graduating from non-Japanese universities or graduate schools
Job Category
Engineer Course
※For details of courses, please refer to "Job Description".
Screening Process
Details will be provided through agencies.
Job Location
HQ: Chiyoda-ku, Tokyo Offices: Osaka, Nagoya, etc.
Offices are barrier free, friendly to wheelchair users.
If the applicant is living outside of commutable area, applicant must be able to move to a commutable area before joining the company.
Work Hours
Flextime system (Core time: 10:00~15:00)
Standard working hours: 7 hours 45 minutes
※Some departments have shift work system.
Holidays
5 day work week system (Saturday, Sunday off※), public holidays, year-end through New Year holidays (Dec.29 - Jan.4), other days designated by the company
※ Differs by departments.
Leaves
Provides various leaves original to Yahoo! JAPAN so that time can be allocated for input and relaxation, and work can consequently be done efficiently.
Substitute Public Holiday
If a public holiday falls on a Saturday, the preceding Friday will be a special substitute holiday. (If the Friday is also a public holiday, the preceding day will be the substitute holiday.)
Annual Paid Leaves
Paid leaves are given from the starting date of work. (Number of days differ by starting month of work.)
Subsequently, annual paid leaves will be given according to years of service.
Paid leaves may be taken on a half day basis.
Accumulated Paid Leaves
Employees can accumulate their expired annual paid leaves as "accumulated paid leaves" as a provision for accidents, sickness or nursing of family members, etc. (Maximum 30 days)
Special Paid Leaves
Besides annual paid leaves, workers can take the following paid leaves:-
wedding leave, child birth leave for prospective fathers, wedding leave for parents, maternity leave, leave to nurse sick children, nursing care leave, funeral leave
Problem Solving Leave
"Problem solving is fun!" is the core value of Yahoo! JAPAN.
As a problem solving engine, employees are encouraged to contribute to the society by solving somebody's problems in their spare time, such as through volunteer works. A maximum of 3 days leave is provided in a year for this purpose.
Since many of the volunteer works are held on weekends/holidays, if the employee participates in a volunteer work on weekend/holiday, this leave can be alternatively acquired on a weekday.
Academic Leave of Absence
As part of a career building measure, a leave of absence is provided in order to intensively acquire specialized knowledge or language out of everyday duties.
This leave is provided to permanent employees with more than 3 consecutive years of service and is provided for a maximum of 2 years.
Sabbatical System
A leave provided so that the employee will further develop given the opportunity to reconsider his/her career, experience and way of working.
This leave is provided to permanent employees with more than 10 consecutive years of service and is provided for a 2 to 3 months period.
Yahoo! JAPAN will partially provide grants during the leave.
Others
Shorter working hour system for childcare, support system for nursing care, etc.
Others
Various incentives (profit incentive/KPI reward/super star reward/stock option based on commitment to performance goals/ black belt one time payment, etc.)
Job Description:Engineers
Engineers of Yahoo! JAPAN cover a wide technological area from the construction of hardware infrastructure to data science field such as analysis on user behavior. There are over 100 Yahoo! services for users and most of them are developed internally. The types of jobs vary from planning, R&D and operation, in order to actualize services. The following are the technological areas covered by the engineers.
Development of front-ends, platforms and apps
A number of teams work in cooperation in order to develop Yahoo! services from front-end to platform. This is an area in which services that are ultimately used by customers are developed, thus is very rewarding. Operational areas are as follows:
・Front-end development
Engineers will design, develop and operate front-ends of all of the Yahoo! services that directly come into contact with the users' eyes, such as Yahoo! Top Page, Yahoo! Search, Yahoo! News, and Yahoo! Chiebukuro (knowledge-sharing service).
・Platform development
Engineers will design, develop and operate the back-end systems such as data base and search system for all of the Yahoo! services so that the services can be provided promptly and appropriately.
・Apps Development
Engineers will design, develop and operate existing as well as new apps, such as Yahoo! Weather and Yahoo! Traffic Information.
Data science
Yahoo! JAPAN is a site that has the largest number of accesses in Japan. It becomes vital to have a technology that can efficiently utilize the extensive amount of data aggregated in the site, for the purpose of providing the most suitable services to the users. Especially, engineers will optimize search results of services (e.g. web search and commerce search) and advertisements to users, and construct recommendations for displaying recommended contents. Operational areas are as follows:
・Science field
Engineers will make a research, design and develop technologies for providing services most needed by users, by utilizing machine learning, natural language processing, and image/sound processing techniques.
・Large-scale distributed processing/data base field
Engineers will design, develop and operate the technologies of large-scale distributed processing in order to utilize the immense customer data and content data.
Infrastructure
Engineers in this course will construct the infrastructure that will support the massive accesses to Yahoo! JAPAN.
There is a wide array of operations, from the construction of network and servers, to the development of a virtual environment within the company.
Operational areas of the infrastructure course are as follows:
・Hardware field
Engineers will plan, design, construct and operate the infrastructure of Yahoo! JAPAN services utilizing knowledges on OS, kernel, server, storage, etc. Engineers will operate the largest server in Japan in the scale of tens of thousands.
・Network field
Yahoo! JAPAN internally operates BGP, OSPF and backbone at a carrier level. Engineers will plan, design, construct and operate networks for providing Yahoo! JAPAN services.
・Cloud field
Yahoo! JAPAN employs technologies used in OpenStack and operates production services.
Engineers will plan, develop, construct and operate virtual environments within the company.
Security
Security engineers protect services of Yahoo! JAPAN and a great multitude of users.
In cooperation with Yahoo! Inc., latest technology is introduced and engineers will be in charge of proactively providing protections.
The operational areas of the security course are as follows:
・Abuse field
Engineers will plan, design, develop and operate abuse measures, such as measures against spams and spambots, in cooperation with each services.
・Security field
Engineers will plan, design, develop and operate infrastructures to protect services and users, leveraging technologies such as authentication.
Security quality of services will be ensured by gathering information related to security, and conducting operations such as security scan, penetration and vulnerability management.