Corporate Obligations and Responsibilities

Donations and Sponsorships
Yahoo Japan Corporation ("Yahoo! JAPAN") provides donations and sponsorships for initiatives that promote an IT society and address social problems.
Donations through Yahoo! Fund
Donations made through Yahoo! Fund for fiscal 2016 are as follows.
Fiscal 2016 Donations
| | |
| --- | --- |
| Emergency Support Fund for 2015 Nepal Earthquake | JPY2,008,919 |
| Emergency Support Fund for Kumamoto Earthquakes | JPY504,500,468 |
| Emergency Support Fund for 2016 Typhoon Lionrock | JPY22,636,170 |
| Emergency Support Fund for 2016 Central Italy Earthquake | JPY9,871,841 |
| Emergency Support Fund for 2016 Central Tottori Earthquake | JPY15,906,163 |
| Emergency Support Fund for Itoigawa Station North Fire | JPY26,028,631 |
| Matching Donation to the Groups that passed the first screening for 2016 Grant Program | JPY2,856,047 |
The preceding totals include donations and contributions from the Mirai Disaster Relief Fund, contributions from users via emergency support funds, and matching donations from Yahoo! JAPAN.
Fiscal 2016 Support Funding
| | |
| --- | --- |
| Support Fund for 2016 Kumamoto Earthquakes NPO Activities | JPY17,200,151 |
| Great East Japan Earthquake Reconstruction Support Fund (Full Year) | JPY5,526,126 |
| Great East Japan Earthquake Reconstruction Support Fund (Problem-Solving) | JPY13,691,220 |
| Disaster Prevention and Reduction Support Fund | JPY4,890,000 |
Donations Obtained through Yahoo! Internet Fund Raising
2016 donations obtained through Yahoo! Internet Fund Raising are as follows.
Yahoo! Internet Fund Raising Results
| | |
| --- | --- |
| Collection Period | April 1, 2016 to March 31, 2017 |
| Donation Amount | JPY903,352,933 |
| Cumulative Total (November 2004 to March 2017) | JPY3,397,158,110 |
Support for Volunteer Activities for High School Students
Yahoo! JAPAN supports the High School Student Volunteer Award, a nationwide assembly for volunteer activities, backed by the Cabinet Office and NHK Public Welfare Organization. Through Yahoo! Internet Fund Raising, we established a fund to provide operating capital and contributed to its publicity.
Active Collaboration with a Nonprofit Sector
Yahoo! JAPAN is a supporting member of the Japan Association of New Public, a group formed by NPO representatives and social entrepreneurs who are solving social issues in the forefront. In addition to regularly exchanging information, Yahoo! JAPAN strives to address social issues by promoting cooperation across sectors through activities such as collaborative events at LODGE, our co-working space.
Collaboration Plan between LODGE and Public Interest Groups
LODGE is a co-working space in the Kioicho, Tokyo office covering 1,330 m2. It was designed to induce open collaboration to foster surprising! innovations.
In addition to allowing NPOs addressing a variety of social issues to use the event space free of charge, LODGE holds joint workshops and events on topics including social issues, regional revitalization, and more.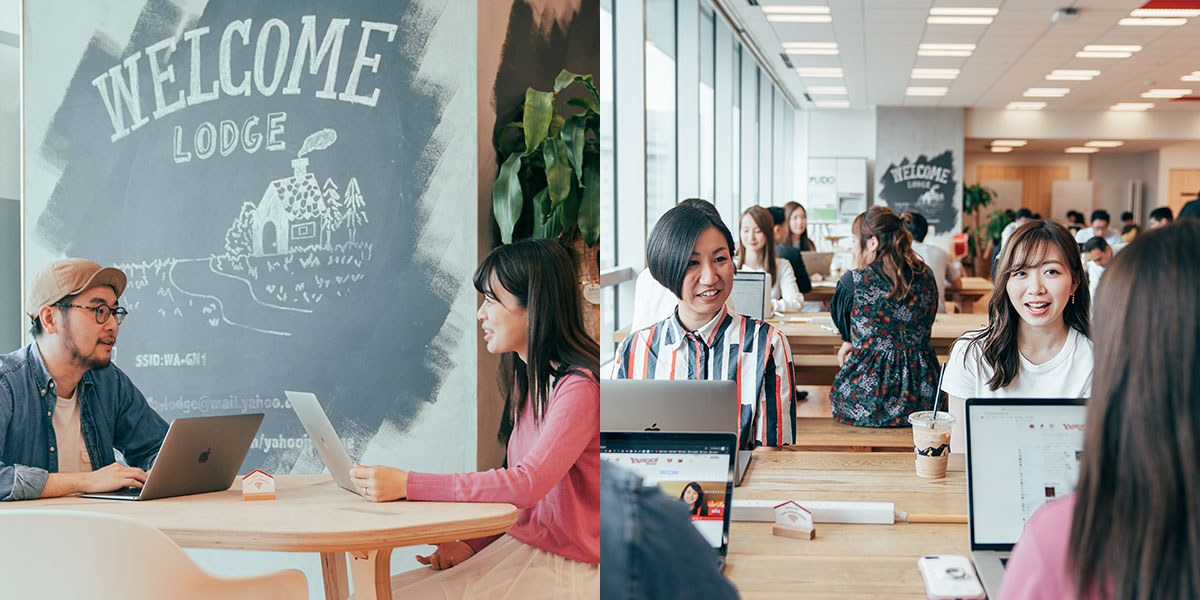 Sponsorship of Technology and Development Events
In fiscal 2016, we sponsored the iOS Developers Conference Japan 2016, Developers Summit 2016 Kansai, ID & IT Management Conference 2016, Hadoop Summit 2016, Open Source Conference 2016 Tokyo/Fall, Tokyo Node Festival 2016, ApacheCon Europe 2016 (in Seville, Spain), the third FIDO Alliance Tokyo Seminar, Regional Scrum Gathering Tokyo 2017, JANOG39 Meeting, and other events.
Additionally, documents used by the engineers and designers of Yahoo! JAPAN are available to the public via Slideshare.
Related Links