Corporate Obligations and Responsibilities

Community Investment
The Yahoo Japan Group considers disaster control assistance, involvement in regional communities, and support for future generations as its priority issues when solving the problems of regional communities and society. For this, we will collaborate and cooperate with stakeholders including regional communities, governments, universities, and non-government/profit organizations to achieve a prosperous society.
Figures related to community investment
| | FY2018 |
| --- | --- |
| Amount of community investment *1 | JPY 2,831,445,730 |
| Number of employees participating from Yahoo! JAPAN*2 | 781 |
| Number of general participants*2 | 8,897,732 |
*1 Calculated from social contribution activity costs, social contribution donations, disaster relief donations via Yahoo! Internet Fund Raising, and transaction amounts of Yell Market.
*2 Total number of participants (cumulative)
Assistance to disaster-affected areas
As a leading company of the IT society, the Yahoo Japan Group finds it its responsibility to offer various recovery support through its online services such as e-commerce and donations, towards various disasters which are expected to become increasingly severe and frequent. For example, we carry out activities to prevent and reduce disasters, and provide information during disasters.
Opening of Yahoo! Ishinomaki Recovery Base
In July 2012, Yahoo Japan Corporation (Yahoo! JAPAN) opened Yahoo! Ishinomaki Recovery Base, the hub for its disaster recovery business. Three or more employees were stationed to engage in disaster recovery in the Tohoku region. The base has since moved on from disaster recovery to regional revitalization in the Tohoku region as Yahoo! Ishinomaki Base.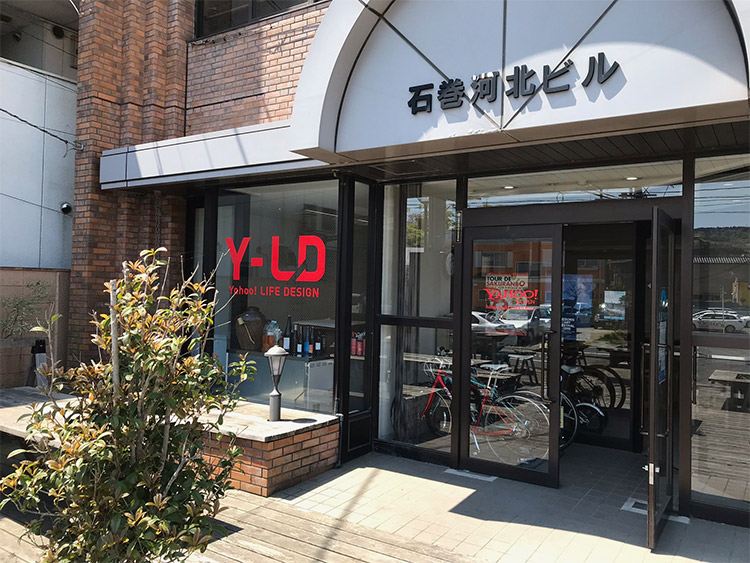 Launch of disaster relief fund raising
In the event of a major disaster in Japan or abroad, a special webpage dedicated to disaster relief fund raising is promptly opened on Yahoo! Internet Fund Raising to raise funds for nonprofit organizations that carry out disaster relief activities.
For disasters that have caused large scale damage and require long-term recovery efforts such as the 2011 Great East Japan Earthquake and the 2016 Kumamoto Earthquake, dedicated pages are opened each year to provide continuous support.
Emergency support funding and matching donations for restoration and recovery support funds
Yahoo Japan Foundation is a nonprofit organization run by Yahoo! JAPAN. Matching donations* from Yahoo! JAPAN are applied to emergency support funding, which is launched in the event of a large-scale disaster, and to Saigai Fukko Mirai Bokin (Disaster Recovery Donation for the Future), which is constantly open. The funds are used to help the areas and people affected by the disaster through Yahoo Japan Foundation.
*A scheme in which Yahoo! JAPAN matches the amount of donations made to Yahoo Japan Foundation (an upper limit is applied).
Tour de Tohoku
Tour de Tohoku is a bicycle event that has been held every year since 2013 by Yahoo! JAPAN and Kahoku Shimpo Publishing to support the restoration efforts after the Great East Japan Earthquake.
In Tour de Tohoku 2018, the sixth of the event held in 2018, a total of 3,649 riders raced along the Sanriku coast of Miyagi Prefecture.
The event aims to provide an annual opportunity for cyclists to experience the appeals of Tohoku and to contribute to the increase in the number of visitors by promoting bicycle tourism so that people will visit the Tohoku area throughout the year.
3.11 Project: Continuous support to areas affected by the disaster
The 3.11 Project has been held each year since 2014 to remember the areas affected by the Great East Japan Earthquake on March 11 with the aim of preventing the disaster from being forgotten and providing continuous support for recovery.
In 2019, Yahoo! JAPAN carried out "Search for 3.11: Searching is Supporting," a project in which Yahoo! JAPAN donated 10 yen for every person who searched "3.11" to organizations engaged in recovery support, as well as "four charity actions," through which anyone could take part in recovery support, and Yahoo! Disaster Prevention Diversity, a project to raise awareness of preparations for disasters catered to each individual.
Through the 3.11 Project, we donated 129,629,265 yen to the Tohoku region and other disaster affected areas.
(Project period: March 1–March 12)
SEMA (Social Emergency Management Alliance)
SEMA is a collaborative initiative of 51 private companies and six nonprofit organizations in Japan that enables a one-stop provision of the companies' supplies and services during a major natural disaster. Yahoo! JAPAN participates as one of the member companies and secretariat.
SEMA prepares for disasters by putting together a list of the supplies and services of the member companies and organizations. When a major natural disaster occurs, it swiftly delivers available supplies to the affected areas based on this list.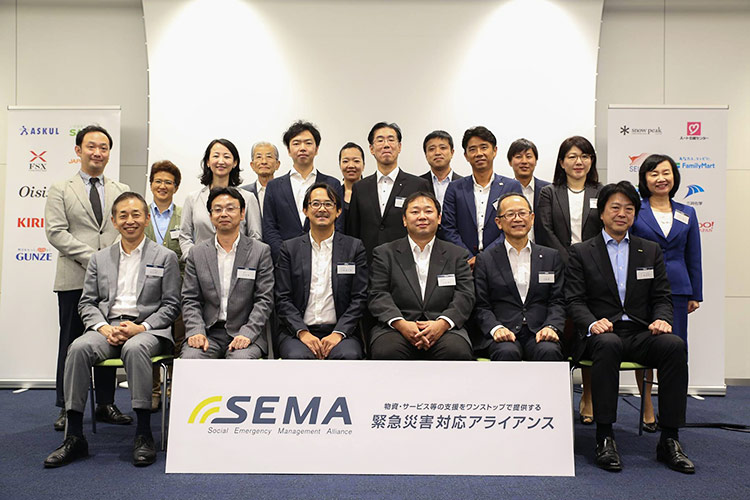 All Japan Disaster Prevention Test: Encouraging the acquisition of knowledge to protect onself in case of a disaster
To encourage people to acquire knowledge that would become useful in a time of disaster that might happen someday, the All Japan Disaster Prevention Test provides questions tailored to the different stages of: occurrence of disaster; evacuation; emergency shelter; and rebuilding life.
The test has been carried out twice so far on themes such as typhoon and heavy rain, with a total of 4,112,372 persons participating.
Fisherman Japan
Since the establishment in May 2014, Yahoo! JAPAN has been supporting the activities of Fisherman Japan, which was founded to revitalize and solve the problems of the fishery industry, one of the major industrial pillars of the Sanriku area.
Yahoo! JAPAN's support includes the sale of seafood on Yahoo! Shopping and the launch of a fan club organization. In cooperation with its group companies, Yahoo! JAPAN is also engaged in a new type of fishery revitalization support based on customer relationship management (CRM).
Involvement in regional communities
As an Internet service provider that operates across the nation, Yahoo! JAPAN considers it important to establish a congenial brand image.
As a member of regional communities, which are the foundation of corporate activity, and together with the people of our office locations, we will provide a wide range of support by tapping into resources such as personnel and IT technology to respect the regions' traditions and culture and pass them on to the next generation. By doing so, we will aim to achieve a prosperous society.
Natural environment protection

In the regions where Yahoo! JAPAN's offices are located, we carry out cleanup activities of the surrounding areas of our offices.
At our Oita Center and Kita-kyushu Center, we are engaged in plastic waste collection together with local NPOs and residents.
By cooperating in the "city development that contributes to the creation of an ecological network that links the precious green spaces in the urban center," which is promoted by Tokyo Garden Terrace Kioicho where our Kioicho office is located, we also make efforts to protect and restore biodiversity by creating biotopes.

Support to the future generation and education using IT

At the Kita-kyushu Center, we provide "research learning experience using the Internet (Yahoo! JAPAN)" for elementary school children.
We are engaged in the promotion of IT education and human resource development. As part of the initiatives, we have offered lectures on security at Kyushu University since 2016.
At our Nagoya office, we participate in local events to offer VR experience and other opportunities to experience IT.
At our Hachinohe office, we provide support based on our knowledge to high school students who participate in a contest to solve regional problems by using data.
In our Kioicho Office in Tokyo, we support the activities of the Programming Club of the Kojimachi Junior High School, Chiyoda-ku which is located in our neighborhood. In July 2019, the Club made a presentation in LODGE, our open collaboration space.

Local communities, society

By participating in festivals and events held in the regions where Yahoo! JAPAN's offices are located, we make efforts to create communities with the local residents.

Examples:

At the Kita-kyushu Center and Oita Center, we volunteer in local marathons to provide water at aid spots and support citizen marathon runners.
At our Nagoya office, we volunteer in traffic control at events held by local shopping districts.

Yell Market: Cheering for support across Japan through products
Yell Market only sells products that are strictly selected by our staff based on criteria such as organic products, products that provide job opportunities for people with disabilities, environmentally-friendly products, "Eco Mark" labeled products, traditional crafts, local specialties, and disaster relief products.
In December 2011, Yahoo! JAPAN launched the "Recovery Department Store (now Yell Market)" to publicize and sell nationwide through online shopping products whose sales routes were lost due to the Great East Japan Earthquake. The platform was renewed in October 2018 as a shopping media supporting ethical products that give consideration to people, society, local areas, and the environment.
Supporting the next generation
We carry out various initiatives including Yahoo! Kids and literacy education to ensure safety and security in children's use of the Internet.
Furthermore, we believe it is necessary for the continuance of our business to develop human resources that can understand and use IT.
Through technology events such as Hack Kids and Hack U, we support the development of personnel who can actively use IT.
Yahoo! Kids
We provide Yahoo! Kids, a portal site for children to enjoy using the Internet safely.
We aim to promote the proper use of the Internet and to help expand the future possibilities of children by encouraging the use of the portal site at classrooms and at home.
Hack Kids: A hands-on programming event for elementary school children
With an awareness of the regional disparities in programming education opportunities as a problem, we carry out Hack Kids as an initiative to provide an opportunity to broaden the future options for children across Japan by offering an experience of the joy of programming. Active engineers of Yahoo! JAPAN serve as lecturers.
The event was held in eight locations across Japan in fiscal 2018 and was attended by a total of 234 elementary school children.
Hack U: An event for students
With the aim of developing next-generation IT creators, we hold Hack U, an event for students who are engaged in the development of IoT devices and websites/apps.
Employees (engineers, designers, planners) of Yahoo! JAPAN offer support to ideas conceived by students of elementary school and above, who are the targets of the event, and give advice on how to realize the ideas.
In addition to events held at schools, 11 events were held in fiscal 2018 in four cities (Tokyo, Nagoya, Osaka, Fukuoka). A total of 684 students participated.
Lectures on online safety to protect children
At our Hachinohe Center, we carry out an online safety project to protect children through the Hachinohe IT/Telemarketing Future Creation Conference, in cooperation with the Policy Planning Division.
In this project, employees of each company who are qualified as an SIA-certified instructor carry out activities such as dispatching lecturers to encourage adults who protect and raise children of the local areas to think about the rapidly changing problems of the Internet. In May 2019, the Conference entered into an agreement with the Aomori Prefectural Police. Four lecturers including a Yahoo! JAPAN employee plan to expand the range of activities under the delegation of a special cyber volunteer.
14 lectures were held in fiscal 2018, participated by approximately 1,800 people.
Company visits
As hands-on learning in career-oriented education, we have been receiving company visits from junior high schools and high schools across the nation since 2007.We have received a total of approximately 6,300 students from 640 schools so far (as of end of March 2019).
We aim to provide a company visit that changes the image of working, as an effort to solve the social problem of improving the work awareness among the youth.
At the same time, we anticipate that our initiative in encouraging students to become familiar with and understand the Internet industry will offer an opportunity for future career choices and lead to the birth of many IT personnel.
IT Personnel Development Project: Developing IT personnel that will lead regional communities
Yahoo! JAPAN offers an education program using IT to high schools, universities, technical schools, and working adults in Japan, in order to develop IT personnel that can carry out e-commerce and digital marketing.
We aim to achieve a future where all communities can disseminate their appeal across the nation by making full use of the power of IT.
Security lectures at Kyushu University
Yahoo! JAPAN is engaged in the promotion of IT education and human resource development in cooperation with educational institutions. As part of the initiative, it has been offering lectures on security at Kyushu University since 2016.
The lectures include topics related to the trend of the times, such as cryptocurrency and blockchain, in an effort to make the lectures more interesting to the attendees.
Furthermore, Yahoo! JAPAN provides opportunities for the attendees to think about security as their own problem by offering them actual security-related experiences such as showing how to actual hack during the lecture.
Yahoo Japan Foundation: Matching donations to the Internet Mirai Fund
Yahoo Japan Foundation supports ideas and initiatives that make the impossible possible by taking advantage of the Internet and IT to improve the efficiency of simple tasks and resolve the digital divide. It carries out matching donations* where Yahoo! JAPAN matches the donations from users.
In fiscal 2017 and 2018, the Foundation offered support to NPOs that supports children by using IT.
Recipients of the support
Fiscal 2017: 3keys "Mex"
Fiscal 2018: YSC Global School "NICO | Japanese × Children Project"
*A scheme in which Yahoo! JAPAN matches the amount of donations paid to the account of Yahoo Japan Foundation (an upper limit is applied).
Sponsorship of SDGs for School
To assist in the spread of SDGs, Yahoo! JAPAN has been sponsoring SDGs for School, one of the activities of General Incorporated Association Think the Earth, since 2018. SDGs for School is a project that supports teachers and students who practice education to create a sustainable society.
In May 2018, Mirai wo Kaeru Mokuhyo (Goals that change the future): SDGs Idea Book, a visual book that enables everyone from children to adults to enjoy learning about SDGs, was published and distributed for free to elementary and junior high schools across Japan.
Yahoo! JAPAN will continue to support activities that offer opportunities for future generations to deepen their knowledge of SDGs and learn about them.