Corporate Obligations and Responsibilities

Responses towards Natural Capital
While information technologies make the world a richer and more convenient place, they have an impact on the environment in the form of CO2 emissions from the consumption of electric power and other energies. The environmental impact is increasing with the expansion of the industry as a whole. To realize a sustainable society, Yahoo Japan Corporation ("Yahoo! JAPAN") will make efforts to address climate change as well as strive to reduce the environmental impact derived from business activities, implement measures to reduce waste, and protect biodiversity.
We will also aim to help society by preparing and enhancing solutions so as to respond to the threat of natural disasters that are becoming more intense and frequent due to climate change.
Promotional Structure and Overview
Structure to Promote Environmental Initiatives
Environmental initiatives will be promoted under the following structure.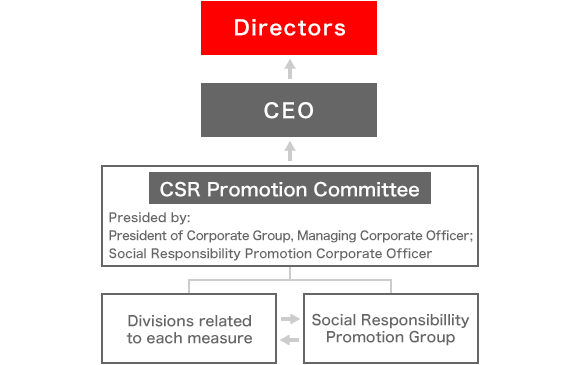 Outline of Environmental Load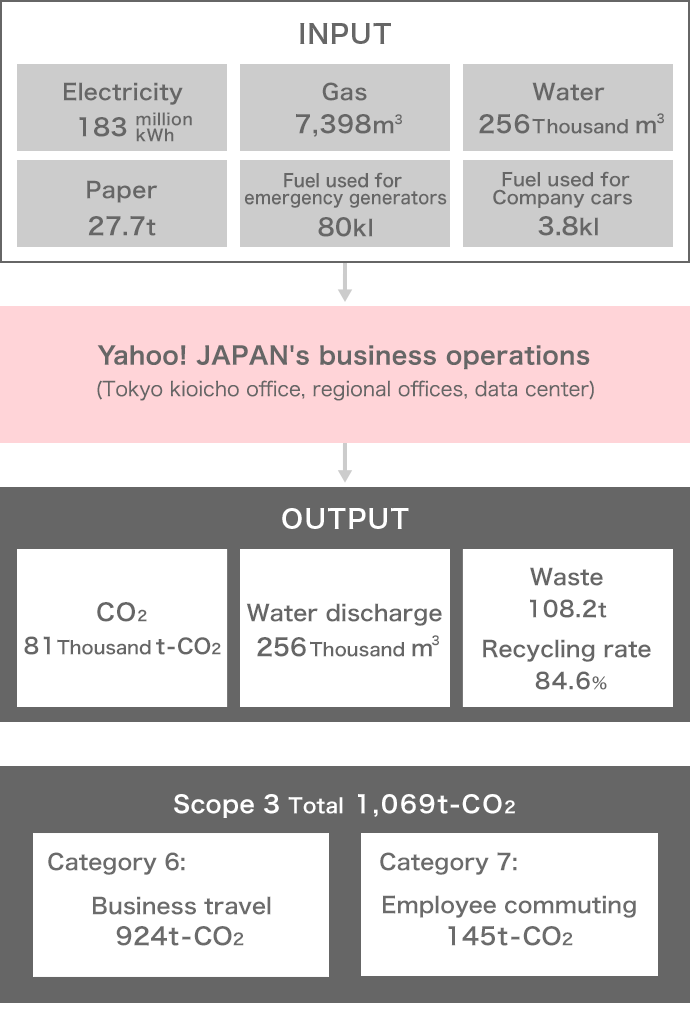 Gross CO2 Emissions (t-CO2), Total Energy Consumption (GJ) and CO2 Emission per Energy Consumption (t-CO2/GJ)
Total of Scopes 1 and 2 for our major facilities (including data centers), 16 subsidiaries located in the same premises, and ASKUL Corporation. CO2 emission per energy consumption is decreasing due to improved energy use efficiency in data centers.
Fiscal Year
Scope 1 & 2 Gross CO2 Emissions (t-CO2)
Scope 3 Gross CO2 Emissions (t-CO2)
Total Energy Consumption (GJ)
CO2 Emission per Energy Consumption (t-CO2/GJ)
2012
88,494
1,775,066
0.050
2013
108,234
1,906,624
0.057
2014
121,763
2,089,167
0.058
2015
137,130
(121,987)
2,181,362
0.056
2016
107,483
(86,551)
1,607,567
0.054
2017
106,228
(83,865)
1,792,129
0.047
2018
101,072
(81,226)
1,069
1,815,357
0.045
Total
1,069
13,082,604
* CO2 emissions until fiscal 2015 are calculated including those for leased assets (data center of IDC Frontier Inc.) and excluding borrowed rental assets (data center of BroadBand Tower, Inc.). From fiscal 2016, figures for leased assets are excluded, but those for borrowed rental assets are included.
* Figures in parenthesis under Scope 1 & 2 Gross CO2 Emissions, Total Energy Consumption and CO2 Emission per Energy Consumption are figures for Scope 1 and 2 excluding those for ASKUL Corporation.
* Scope 3 for fiscal 2018 is the sum of category 6 (business travel) and category 7 (employee commuting).
Renewable Energy Consumption (GJ), Ratio (%) and Average Power Usage Effectiveness (PUE) of Our Data Centers
| Fiscal Year | Renewable Energy Consumption (GJ) | Renewable Energy Ratio (%) | Renewable Energy Ratio (%) |
| --- | --- | --- | --- |
| 2015 | 45,645 | 3.6% | 1.63 |
| 2016 | 98,383 | 6.5% | 1.57 |
| 2017 | 117,361 | 7.0% | 1.56 |
| 2018 | 134,149 | 7.9% | 1.56 |
| Total/Average | 395,538 | 6.5% | 1.58 |
* Renewable Energy Consumption and Renewable Energy Ratio are based only on electricity that we directly purchase from power sources specified by us. Renewable energy included in electricity we procure from electric power companies without specifying the power source is not included.
* Average PUE is the average of all data centers operated by Yahoo Japan Corporation for its businesses.
Climate Change Initiatives
Policy for Addressing Climate Change
A healthy global environment is the basis on which people's lives and society function. Without it, there can be no development of an information technology society. Yahoo! JAPAN strives to address climate change by setting goals in terms of "alleviation" and "adaptation". In terms of "alleviation", we carry out various initiatives to reduce the emission of greenhouse gas (GHG), which is the cause of climate change and global warming. In terms of "adaptation", we take measures based on an outlook that global warming will continue for the time being. In particular, we address increasingly intensifying disasters as a priority area, along with BCP. Going forward, we intend to engage in further measures such as adopting eco-friendly and clean energy initiatives at our data centers and carrying out ethical consumption.
Targets for "Alleviation" of Climate Change
| Mid-Term Goals | | FY2017 | | FY2018 |
| --- | --- | --- | --- | --- |
| By FY2028, reduce CO2 emissions per revenue by 50% from FY2008 levels | FY2017 | Down 30.4% | FY2018 | Down 37.7% |
Initiatives related to "Alleviation" of Climate Change
Data Center Initiatives
Most of the servers necessary to operate the Internet business are managed by our own facilities. In particular, at Asian Frontier, our data center in Kitakyushu City, Fukuoka Prefecture, as well as at our Shirakawa Data Center in Shirakawa City, Fukushima Prefecture, we implement measures to combat global warming using the latest technologies, including the installation of air conditioning systems that use outside air. We also work to improve the efficiency of energy use by continuously replacing facilities and making new capital investments.
Transition to the US Data Center
The U.S. subsidiary of Yahoo Japan Corporation, Actapio, Inc. (former YJ America, Inc.) constructed a new data center in Washington State with approximately 1600 racks. It started operations in April 2019. The data center is located in Washington State, where hydraulic power generation is prevalent, and uses 100% renewable energy for its operation. Actapio, Inc. started operation of Yahoo! JAPAN's first data center outside of Japan (200 racks) in December 2014 in Washington State. With the construction of a data center larger in scale, our use of renewable energy will increase even further.
Addressing Laws and Regulations Related to Environment
With regard to the Tokyo Cap-and-Trade Program (scheme for mandatory reduction in overall emissions and trading of emissions) of the Tokyo Metropolitan Government that imposes mandatory reduction of CO2 emissions on large-scale facilities, Yahoo! JAPAN achieved a reduction of 14,565t-CO2 in excess of its reduction target for the 1st period (FY2010-2014) at two of its data centers in Tokyo. In addition, Tokyo Midtown in Roppongi, Minato Ward, where Yahoo! JAPAN's head office was located at that time, was certified as a Top-Level Facility by the Tokyo Metropolitan Government for "outstanding global warming countermeasure efforts under the Tokyo Cap-and-Trade Program".
We also expect to achieve targets for the 2nd period (FY2015-2019).
Target for "Adaptation" to Climate Change
| Target for "Adaptation" to Climate Change | | FY2016 | | FY2017 | | FY2018 |
| --- | --- | --- | --- | --- | --- | --- |
| Cover 90% of the population by FY2025: Conclude disaster alliance agreements with local municipalities | FY2016 | 54.5% | FY2017 | 58.3% | FY2018 | 66.3% |
Initiatives related to "Adaption" to Climate Change
Provision of Information through Disaster Alert App and Yahoo! Weather & Disaster
To reduce the number of victims of increasingly intensifying disasters, the Disaster Alert app for smartphones promptly provides information on all kinds of disasters, such as earthquake early warnings, tsunami information, heavy rain forecasts, and information on landslide disasters, floods, heatstroke, volcano and civil protection, via push notification. The notifications can also be sent to PCs and mobile phones via email.
Yahoo! Weather & Disaster provides "caution" and "warning" information on rivers as well as river water level, enabling early judgment of voluntary evacuation by indicating 10-minute changes in water levels at observatories on the map. It also provides a "rain cloud radar" that shows real-time movement of clouds as a feature to help protect against torrential rain.
Disaster Alliances
We promote the conclusion of alliances with local authorities in order to deliver disaster information in a timely manner to the residents when disaster strikes, and release cached version of their websites. Displaying their websites on Yahoo! JAPAN's server prevents the servers of the local authorities from overloading and thus contributes to continuous delivery of disaster information. In addition, we provide features to directly distribute, via the Disaster Alert app, emergency information that local authorities want to deliver, such as warnings and information on the opening of evacuation centers. We also contribute to raising disaster-prevention awareness in normal times by displaying evacuation centers on maps.
Waste Management
Our measures on waste management
Yahoo Japan Corporation reduces greenhouse gas emissions by reducing the use of paper and plastic in our offices and the use of electricity. In addition, we promote reduce, reuse, recycle in the company to alleviate the environmental load.
Reducing use of plastic straws and cups in our company café
We have reviewed the use of disposable plastic cups and straws in our company café in the Tokyo Kioicho office. We have introduced bamboo cups made from bamboo fibers, which are powdered and hardened with resin, to replace plastic cups. The material is environment-friendly, with small carbon footprint from manufacturing to disposal. Plastic straws have been replaced with biodegradable polylactic acid straws which uses sugar cane and corn as ingredients.
Along with this change, we have reviewed the prices of drinks so that the standard prices of drinks will be set for drinks provided in bamboo cups (15 yen cheaper than before). In case drinks in plastic cups and straws are chosen, the user will pay 15 yen for the plastics. Bamboo cups will be reused after cleansing and will also be allowed to be taken to employees' desks.
The introduction of the bamboo cup is expected to reduce a maximum of 10,000 plastic cups per month. We will continue our efforts to reduce plastic waste.
Conversion to Paperless Offices
By distributing laptop computers and tablets to our employees, digitizing materials for meetings to be viewed on computers or with projectors, and promoting online work, we are greatly reducing the volume of printed documents and making the shift to paperless offices.
Promotion of Reduce, Reuse, Recycle
At the Kioicho office in Tokyo, we have reduced energy consumption by switching to LED lighting throughout the entire building, and have promoted reusing and recycling by separating garbage into 15 categories. We have also made efforts to conserve forest resources while ensuring confidentiality and recycling through the use of "Mamoru-kun", a recycling box for used paper. At the company cafeteria, we minimize food loss by using the same ingredients for different menus that are changed every day.
We also recycle uninterruptible power supply (UPS) batteries at our data centers.
| Measure | | FY2017 | | FY2018 |
| --- | --- | --- | --- | --- |
| Paper Recycling | FY2017 | Deforestation reduction equivalent to 429 trees | FY2018 | Deforestation reduction equivalent to 501 trees |
| Carbon Offset | FY2017 | CO2 reduction of approx. 47.18 tons | FY2018 | CO2 reduction of approx. 51.02 tons |
Initiatives to Protect Biodiversity
As a company that strives to be in harmony with the natural environment, local communities and future society, Yahoo! JAPAN takes on initiatives to pass on sustainable biodiversity to future generations.
Investment in biodiversity protection
FY2016
JPY 5.2 million
FY2017
JPY 4.7 million
FY2018
JPY 8 million
JPY 5.2 million
JPY 4.7 million
JPY 8 million
Supporting carbon offset campaigns for national parks and World Natural Heritage sites
Since August 2017, Yahoo! JAPAN has supported the initiative for the prevention of global warning "Carbon Offset Campaigns Targeting Japan's National Parks and World Natural Heritage Sites" a collaborative initiative between the Ministry of Environment and the Ministry of Economy, Trade and Industry, and participates in the conservation activities in national parks and world natural heritage sites.
In this campaign, energy used and carbon dioxide emitted around the national parks will be reduced or offset by introducing energy-efficient/renewable energy equipment and forest management. By informing the public of these activities, the campaign aims to stimulate action to prevent global warming.
Yahoo! JAPAN purchases J-Credits (*1) through the campaign secretariat office. Half the purchased amount is used for the preservation of national parks and the World Natural Heritage sites. The rest is credited to project participants (*2) and is effectively used.
*1: J-Credit Scheme is a scheme under which the Government of Japan certifies credits for the amount of greenhouse gas emissions reduced through efforts made by introducing energy-saving devices, as well as the amount of such emissions removed and volume absorbed through appropriate forest management.
*2: Organizations and companies that take initiatives to reduce greenhouse gas emissions and increase absorption volume. J-Credit project participants sell J-credits based on calculations made according to emission reduction and absorption volume and these "credits" can be utilized to reduce the running cost of facilities and to make new energy saving investments.
Efforts to conserve and restore biodiversity by maintaining biotope
In an effort to conserve biodiversity and to contribute to local communities, Yahoo! JAPAN is working on an urban development initiative in Kioicho Garden Terrace, where Yahoo! JAPAN's Tokyo office is located, to form an ecological network (corridor) connecting precious greens in central Tokyo. Yahoo! JAPAN is working on this initiative to conserve and recover biodiversity through biotope regeneration.
Specifically, since June 2016, we have been building an environment so that fireflies (which have been identified to inhabit the inner moat of the Imperial Palace close to our office) can now live in the Kioicho biotope, which has become a model for natural regeneration.
Transactions of all ivory products to be banned in Yahoo! JAPAN's e-commerce services from November 1, 2019
Yahoo! JAPAN has provided opportunities for legal ivory transaction in Japan in compliance with the Law for the Conservation of Endangered Species of Wild Fauna and Flora.
However, we have confirmed multiple reports in which ivories that were traded in Japan through YAHUOKU!, our online auction service, were smuggled abroad and detected by foreign customs authorities. Considering the global situation over ivory trade as well as advice from environmental groups, Yahoo! JAPAN has decided to ban the transactions of all ivory products in its e-commerce services from November 1, 2019.
Protection of Water Resources
Initiatives to Conserve Water Resources
Yahoo! JAPAN does not require a large amount of water or water of a designated quality for its business activities. However, regarding the management of water resources as an important challenge in environmental protection, it analyzes risks and manages the quantity of water intake and discharge. Yahoo! JAPAN's water use largely consists of water used for cooling and humidifying at data centers and water used for employees' office life. For offices, we make efforts to conserve water by using only the amount necessary of our office life, and by using rain water through the building system.
We use industrial water that has high reutilization rate and underground water that has high spring water coefficient for data centers, based on annual plans. Thus, our use has no environmental impact that may lead to the depletion of resources. The water we drain is only used for cooling and humidification, thus does not cause contamination. Management and supervision of drainage is appropriately conducted in collaboration with responsible authorities. Moreover, we endeavor to conserve water resources through measures such as taking in outside air to improve cooling efficiency.
% of water expense to total expense
FY2018
0.01%
0.01%
* Total expense = Selling, general and administrative expenses
Sustainable Procurement
Initiatives for Sustainable Procurement
Yahoo! JAPAN carries out procurement activities based on its Basic Policy on Procurement, which places emphasis on "fairness," "security," and "consideration of human rights" among others. In respecting the environment, we have provided a section titled "Environmental Conservation" in the Basic Policy on Procurement, based on which we procure goods and services with low environmental impacts. We have also included "Consideration for the Environment" in our evaluation criteria for our business partners and suppliers, through which we assess whether clients actively give consideration to environmental issues.
Furthermore, in procurement activities through the procurement division, which account for most of the procurements for the company, we ensure that the division enters into a business agreement that stipulates compliance with the Basic Policy on Procurement with its clients before carrying out business.
Services that Contribute to a Sustainable Society
Initiatives in Services that Contribute to a Sustainable Society
Yahoo! JAPAN makes efforts to solve problems by leveraging IT and web-based services in order to realize a sustainable society.
Yahoo! Internet Fund Raising
Yahoo! Internet Fund Raising is a donation platform that was launched in the wake of the Niigata Chuetsu Earthquake in 2004. It provides a platform to promote continuous support of organizations that address various social problems such as supporting areas hit by large-scale disasters in Japan and abroad, support for refugees, children's poverty, and the protection of the sea, forest and endangered wildlife.
YAHUOKU!
Launched in September 1999, YAHUOKU!, is one of Japan's largest online auction and flea market apps, which enabled the online trading of goods. We strive to take part in the establishment of a recycling society through the promotion of "reuse" by facilitating the sale of goods no longer in use to someone who needs the item.
Gyoppy!
Launched in October 2018, "Gyoppy!" is a media service aimed at raising readers' awareness of marine issues such as declining fish catch, plastic waste, and ocean acidification. Some articles provide links to Yahoo! Internet Fund Raising and purchase of ecofriendly fish, etc. so that readers can contribute to the solving of these issues after reading the articles.
Yell Market
Yell Market was launched as the "Recovery Department Store" in December 2011, in the wake of the Great East Japan Earthquake. It currently serves as a shopping media under the concept of "shopping is cheering," and supports ethical products that give consideration to people, society, local areas, and the environment.