Corporate Obligations and Responsibilities

Measures to Mitigate Waste and Climate Change
Yahoo Japan Corporation ("Yahoo! JAPAN") works to reduce environmental impact of business activities and at the same time promote initiatives to address climate change issues in our business.
Climate Change Initiatives
Consideration for the environment is indispensable in business development. In Yahoo! JAPAN and its subsidiaries, we employ the latest technology as part of our measures against climate change, which include the construction of environmentally friendly next-generation data centers.
In addition, we employ ecohai in which small packages are delivered by bicycles in our Yahoo! Shopping business. Yahoo! JAPAN and its subsidiaries will continue to thrive in achieving a sustainable society through our business, and to tackle climate change by reducing the environmental impact derived from our business activities.
Moving forward, we plan to increase the use of clean energy and methods with lower environmental impacts at the new office in Kioicho, Tokyo and our data centers, in addition to pursuing a number of measures such as utilizing local ingredients at company cafeterias and cooking with environmentally friendly ingredients.
Outline of environmental load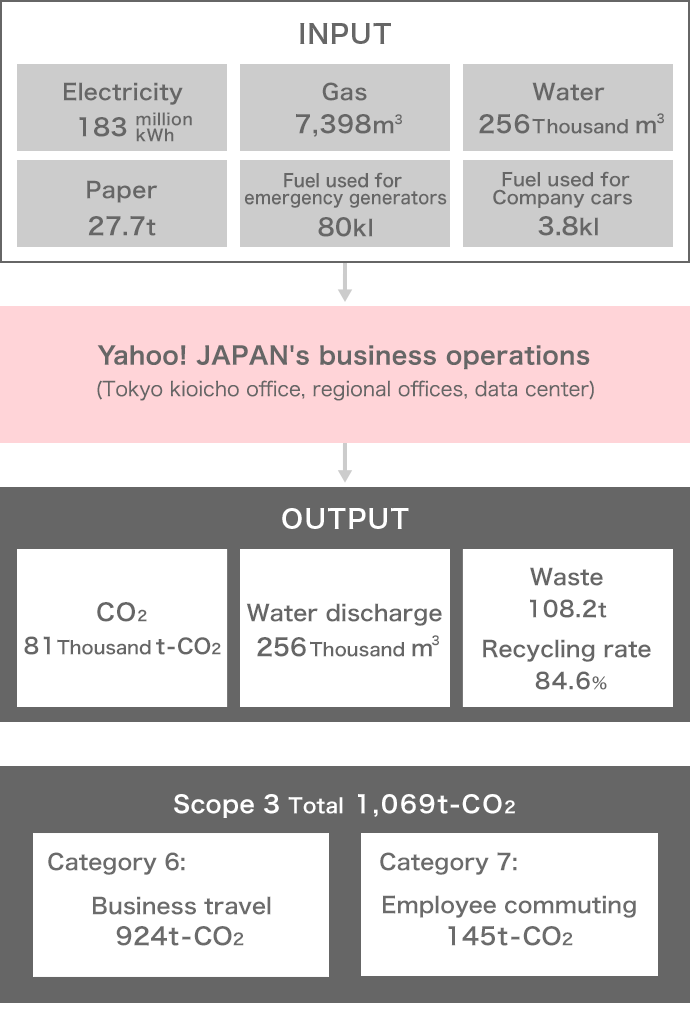 Gross CO2 Emissions (t-CO2) , Total Energy Consumption (GJ) and CO2 emission per energy consumption (t-CO2/GJ)
Total of Scopes 1 and 2 for our major facilities (including data centers) and subsidiaries located in the same premises
| Fiscal Year | Gross CO2 Emissions (t-CO2) | Total Energy Consumption (GJ) | CO2 emission per energy consumption (t-CO2/GJ) |
| --- | --- | --- | --- |
| 2012 | 88,494 | 1,775,066 | 0.050 |
| 2013 | 108,234 | 1,906,624 | 0.057 |
| 2014 | 121,763 | 2,089,167 | 0.058 |
| 2015 | 121,987 | 2,181,362 | 0.056 |
| 2016 | 86,551 | 1,607,567 | 0.054 |
| 2017 | 83,865 | 1,718,057 | 0.049 |
| Total | 610,894 | 11,277,843 | |
* CO2 emissions until fiscal 2015 are calculated including those for leased assets (data center of IDC Frontier Inc.) and excluding borrowed rental assets (data center of BroadBand Tower, Inc.). From fiscal 2016, figures for leased assets are excluded, but those for borrowed rental assets are included. When Scope 3 will be calculated in the future, the figures for leased assets are scheduled to be included and reposted.
Data Center Initiatives
Our data center business is responsible for running, managing, and maintaining the servers of our corporate clients, along with operation of servers necessary to run our Internet business.
We are working to improve energy efficiency through new capital investment and equipment replacements at our data centers in eight locations across Japan.
In particular, we are incorporating cutting-edge technology in our measures to mitigate climate change, including using ambient air cooling systems at Asian Frontier in Kitakyushu, Fukuoka and Shirakawa Data Center in Shirakawa, Fukushima.
In addition, our data centers in the United States run on 100% renewable (hydroelectric) energy.
Conversion to Paperless Offices
By distributing laptop computers and tablets to our employees, digitizing meeting materials for viewing on computers or with projectors, and promoting business online, we are greatly reducing the volume of printed documents and making the shift to paperless offices.
Promotion of Reduce, Reuse, Recycle
At the Kioicho office in Tokyo, we have reduced energy consumption by switching to LED lighting throughout the entire building, and have promoted reusing and recycling by separating garbage into 15 categories. We have also taken on efforts to conserve forest resources while emphasizing confidentiality and recycling through the use of "Mamoru-kun", a recycling box for used paper. At the company cafeteria, we minimize food loss by using the same ingredients for menus that are changed every day.
We also recycle uninterruptible power supply (UPS) batteries at our data centers.
Paper Recycling


(April 2017 to March 2018)

Deforestation reduction equivalent to 429 trees
Carbon Offset


(April 2017 to March 2018)

CO2 reduction of approx. 47.18 tons
Protection of Biodiversity
As a company that strives to be in harmony with the natural environment, local communities and future society, Yahoo! JAPAN takes on initiatives to pass on sustainable biodiversity to future generations.
Investment in biodiversity protection
FY2016
JPY 5 million
FY2017
JPY 4.5 million
FY2018
JPY 5 million
JPY 5 million
JPY 4.5 million
JPY 5 million
Supporting anti-poaching activities in Namibia
On March 9, 2017, endorsing initiatives to fight against poaching and to conserve wildlife in Etosha National Park, Namibia's flagship national park, Yahoo! JAPAN made donations through the United Nations Development Program (UNDP) to construct an anti-poaching patrol camp.
The donation financed the building of a new anti-poaching patrol camp equipped with water supply facilities and solar power generation and is used by anti-poaching patrol rangers and community members.
Supporting carbon offset campaigns for national parks and World Natural Heritage sites
Since August 2017, Yahoo! JAPAN has supported the initiative for the prevention of global warning "Carbon Offset Campaigns Targeting Japan's National Parks and World Natural Heritage Sites" a collaborative initiative between the Ministry of Environment and the Ministry of Economy, Trade and Industry, and participates in the conservation activities in national parks and world natural heritage sites.
In this campaign, energy used and carbon dioxide emitted around the national parks will be reduced or offset by introducing energy-efficient/renewable energy equipment and forest management. By informing the public of these activities, the campaign aims to stimulate action to prevent global warming.
Yahoo! JAPAN purchases J-Credits (*1) through the campaign secretariat office. Half the purchased amount is used for the preservation of national parks and the World Natural Heritage sites. The rest is credited to project participants (*2) and is effectively used.
*1: J-Credit Scheme is a scheme under which the Government of Japan certifies credits for the amount of greenhouse gas emissions reduced through efforts made by introducing energy-saving devices, as well as the amount of such emissions removed and volume absorbed through appropriate forest management.
*2: Organizations and companies that take initiatives to reduce greenhouse gas emissions and increase absorption volume. J-Credit project participants sell J-credits based on calculations made according to emission reduction and absorption volume and these "credits" can be utilized to reduce the running cost of facilities and to make new energy saving investments.
Efforts to conserve and restore biodiversity by maintaining biotope
In an effort to conserve biodiversity and to contribute to local communities, Yahoo! JAPAN is working on an urban development initiative in Kioicho Garden Terrace, where Yahoo! JAPAN's Tokyo office is located, to form an ecological network (corridor) connecting precious greens in central Tokyo. Yahoo! JAPAN is working on this initiative to conserve and recover biodiversity through biotope regeneration.
Specifically, since June 2016, we have been building an environment so that fireflies (which have been identified to inhabit the inner moat of the Imperial Palace close to our office) can now live in the Kioicho biotope, which has become a model for natural regeneration.
Yahoo! JAPAN's current views and policy on ivories
Yahoo! JAPAN remains steadfast in our view that we do not accept transactions that may lead to the poaching and extinction of elephants. This of course includes illegal transactions but also those that are deemed legal at this point. At the same time, we believe that there are no justifiable reasons where we should deprive our users of the opportunity to conduct legally compliant trades. Moreover, in order to ensure that the sellers strictly comply with the law, Yahoo! JAPAN notifies sellers of the laws and their amendments to raise their awareness and strengthens patrols to check the compliance of the sellers.
We are fully aware of the importance of conserving endangered wildlife such as elephants. Yahoo! JAPAN has cooperated with the Japanese government (Ministry of the Environment, Ministry of Economy, Trade and Industry, other related ministries, and investigative agencies) and NGOs, and we will continue to strengthen our collaborative efforts in the future.