Corporate Obligations and Responsibilities

Diversity
Corporate Obligations and Responsibilities

Diversity
Yahoo Japan Corporation ("Yahoo! JAPAN") makes efforts to create an environment where each employee can perform to the best of their abilities regardless of differences in life stage or personal attributes.
Basic Policy on Diversity
By being a company where diverse human resources can maximize organizational effectiveness based on mutual understanding and respect, we aim to achieve our mission of "solving the problems of the people and society leveraging the power of information technologies."
More specifically, we work to solve problems within the company through employee projects on such themes as female employees, childcare, LGBT employees, persons with disabilities, globally hired employees, and more. As each project is supported by a system for sponsorship by corporate officers, our diversity measures are implemented with full commitment of the management.
Respect for Basic Human Rights
As part of our efforts to respect the human rights and personalities of each employee, we work to maintain a safe and secure working environment by forbidding the use of forced labor and child labor, prohibiting discrimination and harassment, managing working hours, and recognizing labor unions and the right to collective bargaining, and others.
Related link
Initiatives to promote diversity
As part of our training to our managers, we conduct diversity management training focused on work styles of various human resources. The training covers basic knowledge, and through discussions and case studies, participants learn about points to note when managing subordinates whose work style differs from the managers.
Once a year, a week is dedicated to diversity. The human resources department, corporate officers and volunteer employees collaborate to hold an awareness-raising event to promote diversity within the company. Lectures and workshops on themes such as advancement of women, LGBT, persons with disabilities are held as an occasion for all the employees to give a thought on diversity.
Furthermore, volunteer employees, corporate officers and human resources department join hands to conduct problem solving activities related to advancement of women, women's health, childcare, LGBT, persons with disabilities and globally hired employees.
Promoting Participation of Women in the Workplace
We conduct initiatives to ensure that women can continue working in a secure environment. In accordance with the Act on Promotion of Women's Participation and Advancement in the Workplace, we provided the Ministry of Health, Labour and Welfare with our action plan on this issue in March 2016.
As of March 2019, there are 193 females in managerial positions.
Related link
Female Executives and Managers (FY2018)
Female Employees in Managerial Positions (Of Total Employees in Managerial Positions)
193 (16.2%)
Female Employees with Senior Managerial Positions or Higher (Of Total Employees with Senior Managerial Positions or Higher)
42 (12.3%)
Female Executives (Of Total Executives in Each Positions)

Directors, corporate officers, and Audit and Supervisory Committee member: 2 (7.4%)
Female Unit Mangers (UM): 2 (7.1%)
Female Service Managers (SM): 19 (16.5%)

There are overlaps in counting since some management, UM and SM positions are held concurrently.
New Appointments of Female Employees to Managerial Positions (FY 2018)
| | |
| --- | --- |
| New Appointments to Managerial Positions | 62 (20.6%) |
Yahoo! JAPAN has carried out measures to support women's careers since fiscal 2012 in an effort to promote the participation and advancement of diverse human resources in the workplace. Its initiatives include career workshops and lectures hosted by female employee volunteers.
In 2017, we held a seminar for about 70 participants on the "study of men," which examined women's social participation from the perspective of men, to promote understanding of diverse careers and work styles that are not bound by gender.
Furthermore, under the initiative of the human resources department, approximately 50 selected employees, mainly in managerial posts with a large ratio of female subordinates, participate in lectures and workshops by external specialists on the theme of supporting women's participation and advancement. Their reports on their findings contribute to sharing the latest trends and raising awareness within the company.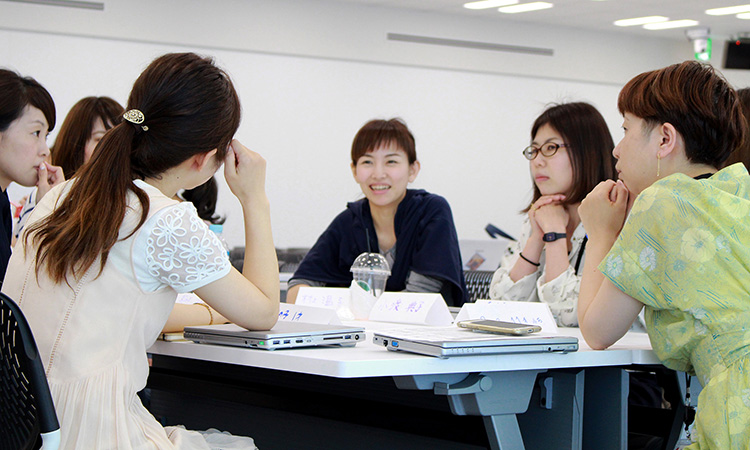 Women's health
Study sessions and internal events hosted by volunteer employees are held to foster a culture that promotes deeper understanding of women's health among employees and their managers and colleagues, and allows women to work in a healthy state.
Launched in 2014, the project faces health issues that are unique to women as well as diversity of lifestyles, and has been working on improving health literacy and developing a corporate culture that makes it easier for female employees to consult with the company on health-related matters. In 2018, Yahoo! JAPAN was awarded the Promotion Award of the Women's Healthcare and Work-Life Balance (WLB) Award by the Women's Healthcare Awareness & Menopause Network Society for its activities.
Childcare
In addition to the Office Anywhere system which enables employees to work anywhere and anytime, shorter working hours, flextime, and childcare & nursing care leave, Yahoo! JAPAN introduced a "selectable work system" in 2017 which allows employees to take leave one day per week in addition to weekends and holidays. The targets of this system are employees with a resident child at elementary school age or younger, or those that need to provide nursing care to family members. This enables a work style that better suits employees' specific needs, such as using the program in August to coincide with the child's summer holidays.
Activities to support the balancing of work and childcare have been constantly conducted since 2012, led by employee volunteers. They include talk sessions between employees with small children and their managers, information exchange & consultation lunch meetings, and individual consultations.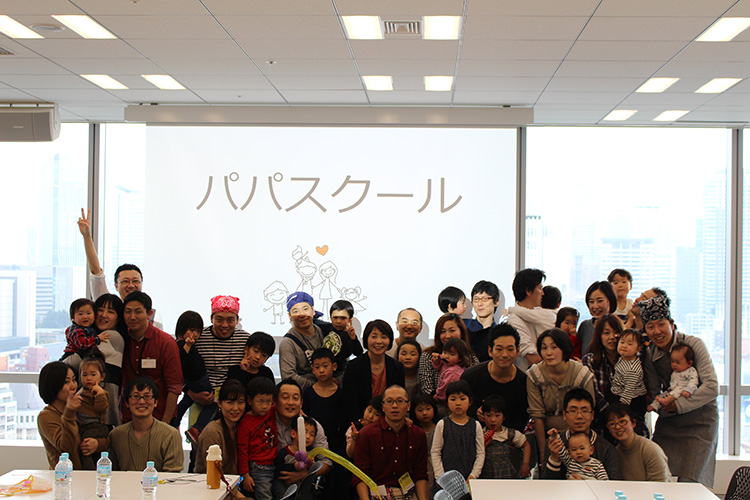 LGBT
Yahoo! JAPAN has reviewed its definition of "spouse" in its internal regulations to apply the same welfare as traditional spouses to same-sex partners and common-law spouses.
As opportunities to promote understanding of LGBT within the company, we also carry out diversity training provided by the human resources department for managerial personnel as well as activities to facilitate understanding and raise awareness within and outside the company through lectures hosted by volunteer employees and exhibitions in LGBT-related events.
Yahoo! JAPAN will continue to work on establishing a workplace environment and society where LGBT employees can work in comfort.
*LGBT – L (lesbian), G (gay), B (bisexual) and T(transgender)
Persons with disabilities
Our recruitment policy is based on individual ability and ambition, regardless of whether the person has disabilities or not.
The human resources department manages any employment, work, or life-related concerns these employees may have. Yahoo! JAPAN also has a special leave program for employees with disabilities in place, which grants special leave of six days per year. Employees with disabilities work in a wide range of areas including sales and services planning, engineering, web design, customer support, management, and more.
Yahoo! JAPAN currently satisfies the statutory employment ratio of persons with disabilities and will continue to actively employ such persons and establish a workplace environment where employees with disabilities can perform to their full potential.
Athletes with disabilities
Some of our employees with disabilities are also athletes. Their work hours and work volume are aligned with their desires. Four athletes with disabilities work at Yahoo! JAPAN, aiming to acquire job experience and skills while competing and fulfilling their work obligations at the same time. Led by projects by employee volunteers, we hold events that promote exchanges with athletes with disabilities and the understanding of disabilities, as part of our efforts to foster a culture that allows our employees with disabilities to work in security and perform to their full capacity.

Globally hired employees
Yahoo! JAPAN offers opportunities to those who have the will to self-develop and those with ambition, regardless of age, gender, or nationality. Employee volunteers and the human resources department work in tandem to carry out internal awareness-raising activities with the aim of fostering a culture that removes barriers for international employees and encourages employees to interact with different people.
In 2017, we held events to promote cross-cultural exchange and cross-cultural understanding, as well as to build a network among international employees.
Furthermore, management's messages to employees via the intranet or e-mail are prepared in both Japanese and English.