Corporate Obligations and Responsibilities

Promises to Our Employees
Yahoo Japan Corporation ("Yahoo! JAPAN") has introduced various systems and has implemented initiatives to ensure that our employees can actively perform their work regardless of their stages in life. We also have intranet and a company cafeteria to facilitate internal communication.
Basic Policy on Employment
We believe respect for employees' individuality and fair evaluation of personal growth and results are important in ensuring employees' demonstration of their maximum potential. We offer opportunities to employees with ambition and desire for personal growth, regardless of their age, sex, and nationality. As of March 31, 2017, Yahoo! JAPAN employs individuals of 11 non-Japanese nationalities: Indian, Indonesian, British, South Korean, Spanish, Sri Lankan, Thai, Taiwanese, Chinese, German, and Mongolian.
Also as of March 31, 2017, our work force comprised roughly 70% male employees and 30% female. The average length of service stands at 6.4 years for men and 6.1 years for women.
Related Links
Employee Demographics (Non-Consolidated)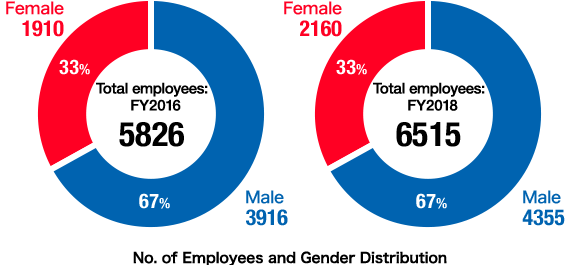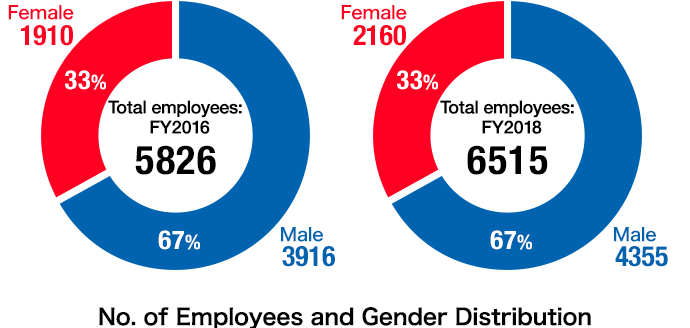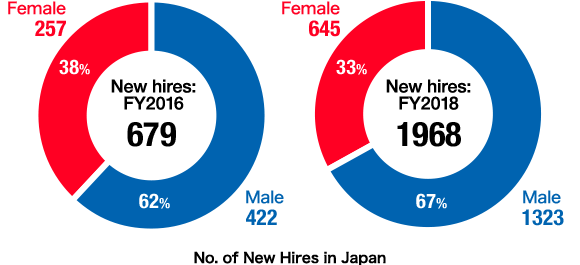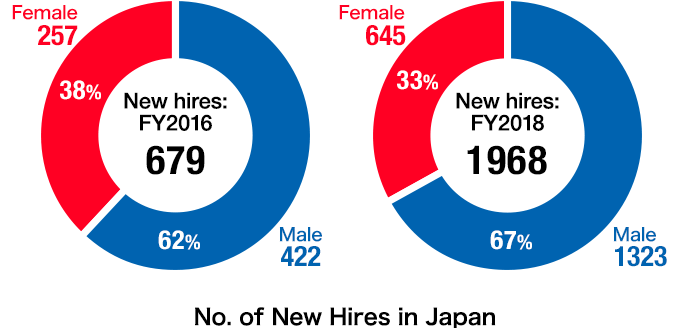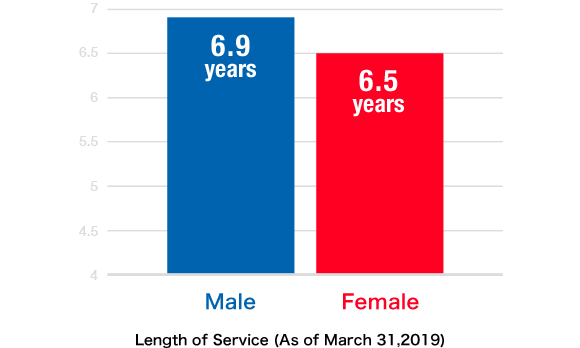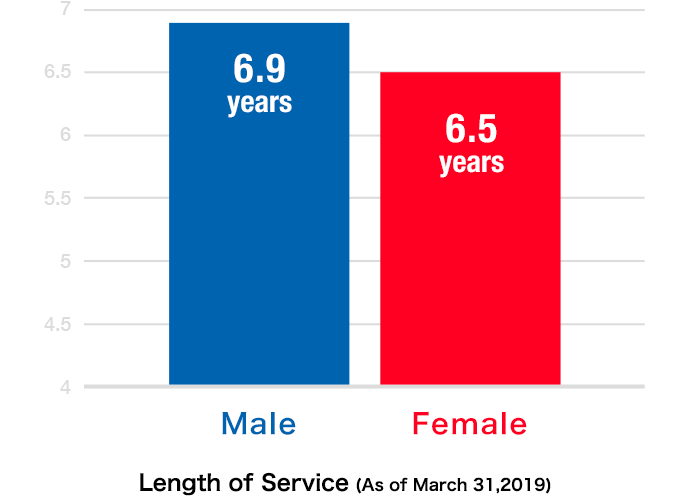 Unleashing the Talents and Passions of All Employees
Unleashing the talents and passions of employees is one of the core concepts of our approach to human resources. To that end, we are taking steps to ensure we provide an environment where each and every employee can freely demonstrate their capabilities and work independently to provide solutions to user concerns.
One specific example is one-on-one meetings held between the superiors and their subordinates in Yahoo! JAPAN. The meetings, held once a week for 30 minutes, are expressly for the benefit of the subordinates.
The superiors act as coaches and both listen and ask questions to pinpoint obstacles their subordinates are facing in achieving their goals. This way, the superiors suggest ways to overcome those obstacles and urge changes in approach.
Furthermore, we have prepared human resource development charts to encourage each employee to visualize their own strengths and weaknesses, as well as the experiences they will need to get to their expected careers in three years' time. Based on the human resource development chart, career-focused human resource development meetings are held periodically and career paths that best suits the employees are sought for.
Employees who satisfy certain conditions can apply for reassignment to any position within the company through a "job change system" based on personal statements, with open recruitment held periodically.
This is part of our efforts to offer an environment that allows our employees to challenge themselves in pursuit of the career they want. We are working toward an environment capable of providing employee training that can be taken whenever and wherever it is needed through enhanced training menu and digitalization.
Related Links
Yahoo! Values and 360-Degree Value Assessments
In order to become a problem-solving engine, Yahoo! Values are created and shared to spell out the desired behavior and judgment of employees. To determine if employees are properly representing the values in their daily behavior, we have introduced value evaluation in which employees evaluate each other.
Value evaluations are used together with performance evaluations, which determine how much progress has been made toward achieving objectives specified at the beginning of the term and the results are given back at the end of the term.
Aim to Create a Motivating Work Environment
Yahoo! JAPAN is united in its efforts to create a motivating work environment and achieve high business targets.
In addition to conducting an employee satisfaction survey every six months, we check on the health of our organization via a number of different assessments and pursue organizational improvements by setting concrete goals. Since 2013, the management team has held 71 Y!J Link events for conversing with employees about the company vision and strategy. These events are held at worksites at all locations in a question and answer format. Employees ask frank questions to which members of the management team directly convey their views. This offers an important opportunity for communication with employees.
Employees who achieve particularly excellent results including significant contributions to customer satisfaction improvements are awarded Yahoo! JAPAN Superstars. Employees in specified technical fields who achieve high levels of expertise and positive results are certified as "KURO-OBI (Black belt)."
We use these awards and certifications to praise employee achievements, and we hope to increase employee motivation by actively incorporating reactions and comments from users and business partners.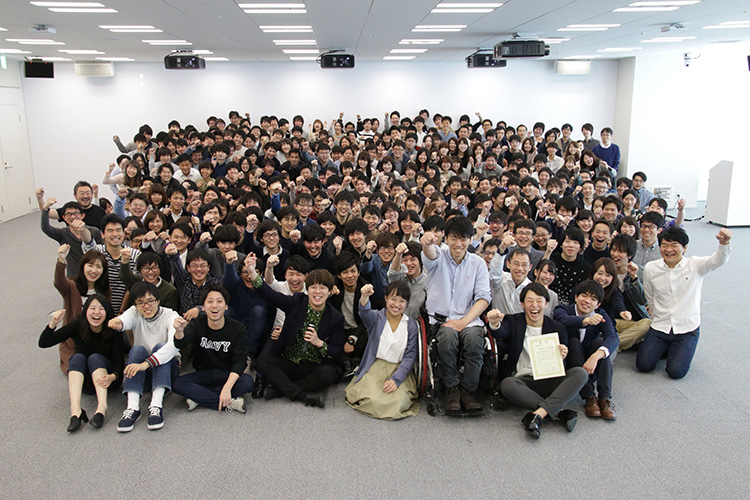 Related Links
Varied Training Programs for Employees
Our goal is to be a company that develops human resources, unleashing the talents and passions of each employee and increasing opportunities for growth. In order to support learning and development of skills necessary for growth among all our employees, we arrange a variety of training systems, including training for recent graduates, specialized skills, management positions, and for all employees.
Related Links
Improvements to Systems that Support Work and Childcare
A variety of systems to enable employees who are pregnant and those engaged in childcare or caregiving to continue working are being introduced. We have improved systems to levels that surpass legal frameworks. For instance, we have expanded the age range of childcare leave and childcare periods as well as leave to nurse sick children. In fiscal 2016, 52 men and 495 women utilized our childcare systems, and the numbers of both men and women using these systems are on the rise.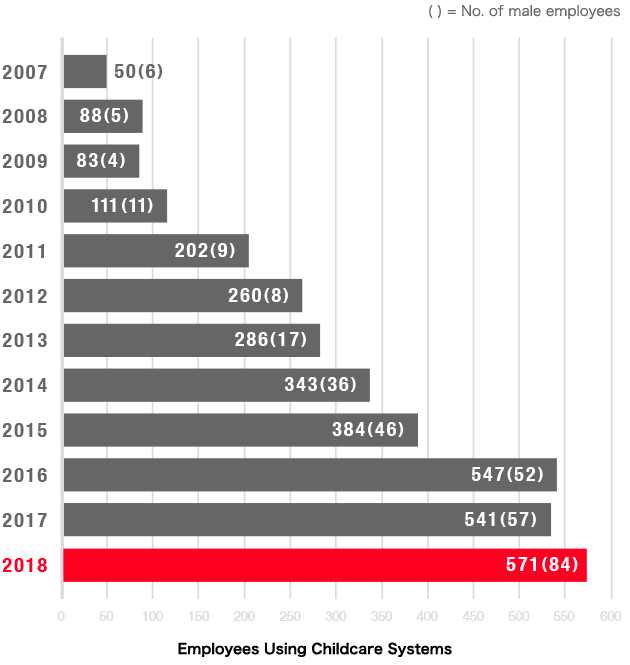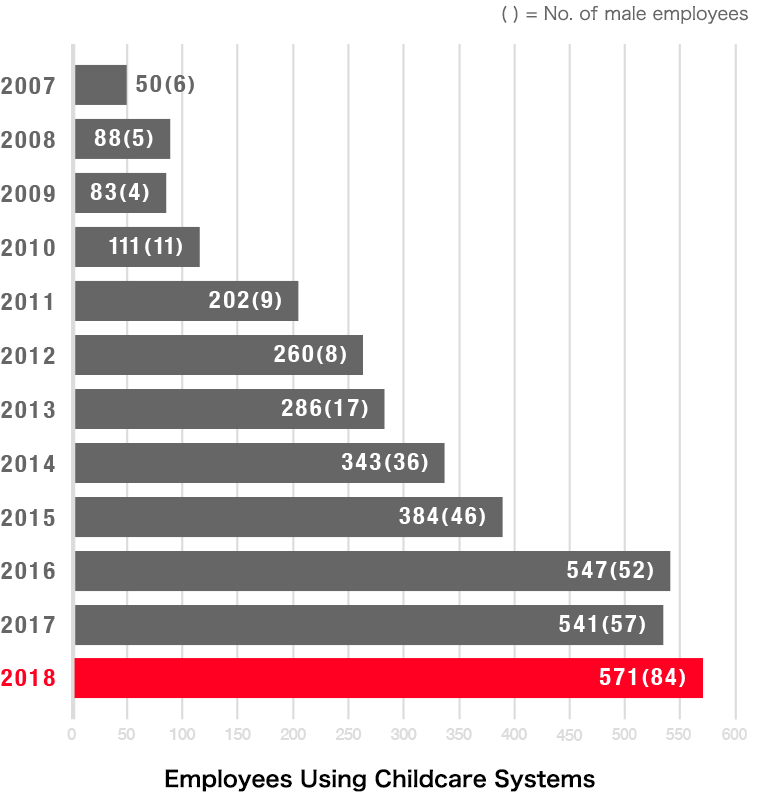 Systems Available to Employees
| | |
| --- | --- |
| Maternity leave | 5 working days. (Prior to the "Maternity Leave Before Childbirth") |
| Maternity leave before or after childbirth | 7 weeks' leave before childbirth and 8 weeks' leave after childbirth. |
| Childcare leave | From 57 days since childbirth to the day before the child's first birthday. Extendable until the day before the child's second birthday, if no nursery facilities can be found. |
| Shorter working hour system for childcare | Standard working hours per day can be shortened to 5 hours if the child is between 0 year old and 6 grade in elementary school. (Until the end of school year after the child's 12th birthday) |
| Flextime system for childcare | A maximum of 90 minutes of flextime is allowed per day if the child is between 0 year old and 6 grade in elementary school. (Until the end of school year after the child's 12th birthday) |
| Leave to nurse sick children | Maximum 5 working days for 1 child of preschool age. Maximum 10 working days for 2 children or more of preschool age. |
| Childbirth leave for prospective fathers | Maximum 3 working days. Available between 1 week prior to the birth date and 1 month after childbirth. |
| Selectable work system | System that provides one day of leave per week for childcare for elementary school students and younger, or if nursing care for a family member is required. |
Support for Both Work and Family
The number of employees utilizing maternity and childcare leave, shortened hours, and the flextime system for childcare is increasing. As such, we started the mom/dad supporter system in fiscal 2013 to offer support beyond physical systems.
Roughly 10 employees who volunteer as supporters, post their names and contact information on the company intranet and can be contacted freely. This program offers more than advice for parents struggling with work and childcare; it provides as-needed consultations to supervisors with subordinates utilizing shortened hours or the flextime system for childcare.
We have also established a division specialized in promoting work-life balance. This division supports management training, activities aimed at raising awareness, and diverse workstyles.Seminars to support employees returning to work after maternity and childcare leave have been held twice a year since May 2012, with a total of 281 employees participating.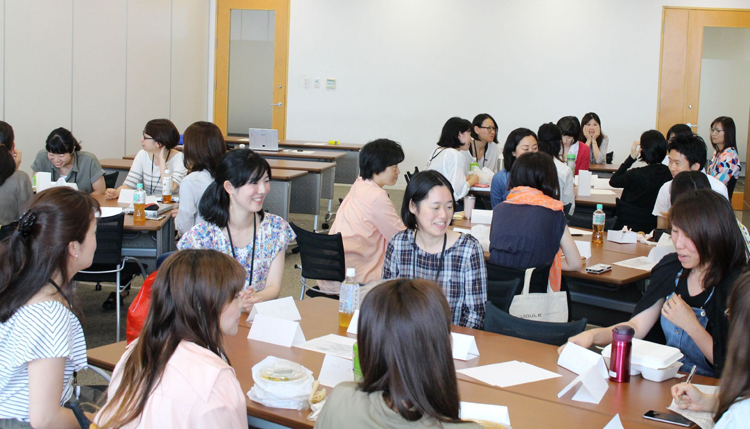 Flexible Working Environment
We have adopted a working environment that embodies a corporate culture in which employees work independently and autonomously toward their respective goals.
| | |
| --- | --- |
| Flextime System | A system where employees can choose when to begin and end work, within a certain time frame. 100% participation rate (excludes employees to which flextime does not apply). |
| Dokodemo Office (Office Anywhere) | A system where work may be done wherever it can reasonably be executed, without relying on a specific location, for the purpose of increasing performance. 81.4% utilization rate among employees in fiscal 2016. |
We are also striving to create a working environment to inspire daily improvements in productivity by working to minimize overtime work, establishing co-working spaces, and shifting the emphasis from meetings to dialogues.
Health Maintenance and Promotion
We have prepared a system to support independent health maintenance to ensure that each of our employees can remain healthy in body and mind while working and lead happy lives.
From 2016, President and Representative Director Manabu Miyasaka personally became the Chief Conditioning Officer (CCO) with the goal of making this a company where all employees can keep their bodies and minds in the best condition while working.
Health Maintenance and Promotion Activities
Measures against Lifestyle Diseases
Occupational physicians and health professionals give health advice to employees based on the results of medical checkups as part of our measures against lifestyle diseases. We also offer a weight loss program to those with metabolic or pre-metabolic syndrome to support lifestyle improvements.
In addition, we are enhancing health promotion activities, such as seminars on common diseases and eating, exercise, and sleeping habits.
Mental Health Protection Measures
For managers, we promote mental health protection activities, which include new appointee and refresher training. For employees, we conduct various measures, such as setting of consultation desk, extensive support from counselors in charge of each workplace, and notifications via the company intranet. For those on leave, we are strengthening our support to facilitate a smooth return to work, based on a support program dedicated for this purpose. We also perform stress checks in accordance with laws and regulations.
Measures against Smoking
In the interest of employee health promotion and secondhand smoke prevention, we conduct awareness-raising activities, including stop smoking seminars, lung age tests, and prohibited use of smoking rooms on World No Tobacco Day. We also offer medical facility introductions and consultations for those who wish to quit smoking.
Measures against Overworking
We are taking steps to reduce the risk of adverse health effects caused by long working hours through face-to-face guidance from occupational physicians for employees working long hours.
Health Support for Female Employees
As part of measures to support the health of our female employees, we began the Health Support for Female Employees Project in April 2014. This project includes training of female health counselors, various seminars and information sessions to create an atmosphere where employees can freely seek advice on issues affecting mental and physical health specific for women.
Medical Checkups
We have provided systems enabling employees to obtain more complete physical exams in addition to legally mandated checkups in the interest of early detection and treatment of disease. To encourage employees to take steps to maintain and improve their own health, we have introduced electronic medical records, allowing employees to review the results of checkups at any time.
Cancer-Prevention Measures
We participate in Corporate Action for Cancer Prevention Promotion, a program commissioned by the Ministry of Health, Labour and Welfare. Our cancer-prevention measures include activities to raise awareness among our employees, such as addition of cancer-related examination items in the medical checkups and information distribution through seminars and company intranet. Specifically, we have established a system to support breast cancer screenings as part of cancer-prevention measures for female employees.
Health Management for Overseas Personnel
In addition to providing legally mandated medical checkups for our employees overseas, we also pursue measures against infectious diseases, such as inoculations.
Measures against Infectious Diseases
As part of our measures against influenza, we offer inoculations in the company as well as support in paying for the cost of inoculations. To manage infection risks, including those posed by new strains of influenza, we provide antiseptic and have a supply of emergency face masks on hand.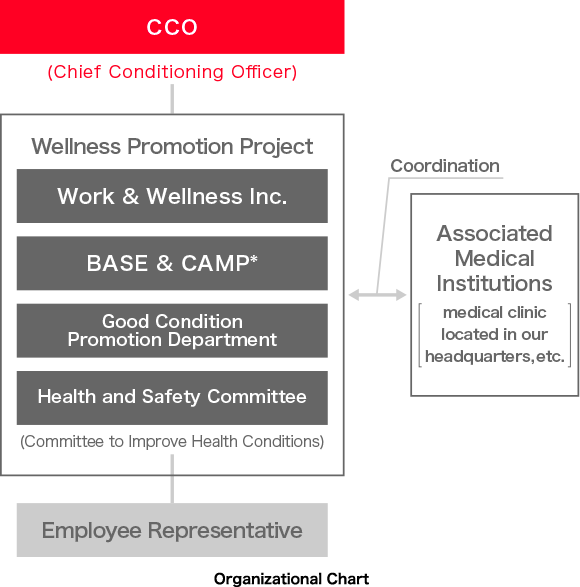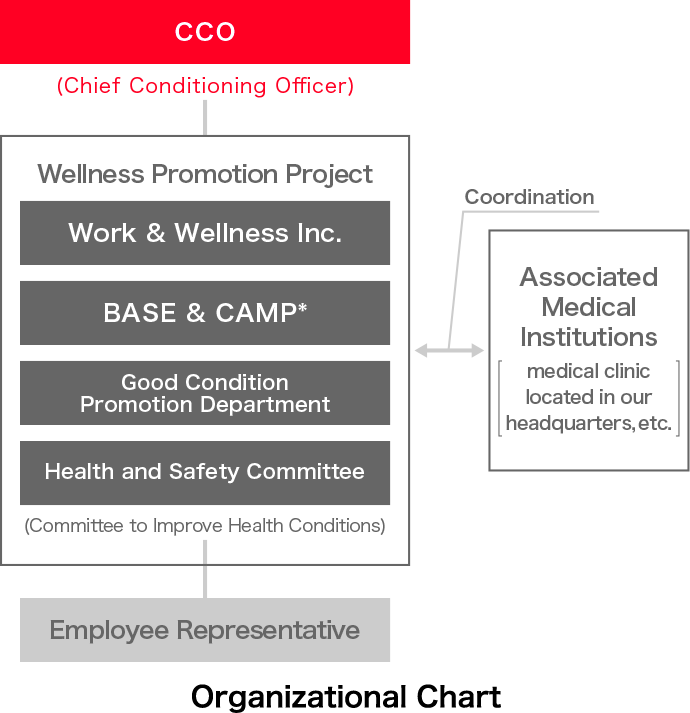 Provision of Health and Safety Systems
In addition to establishing a Health and Safety Committee and workplace inspections, we have also instituted emergency response measures, such as installation of automatic external defibrillators (AEDs), emergency-response drills, and online disaster prevention modules.
Emergency-response drills have been held regularly since November 2007 and involve firefighting exercises and training in general first aid. First aid training includes lessons in CPR and AED use. Many employees have obtained first aid certification from local prefectural and metropolitan fire departments.
Provision of Health and Safety Systems
| | |
| --- | --- |
| Health and Safety Committee | We established a Health and Safety Committee based on the Industrial Safety and Health Act to reduce workplace accidents and as part of our initiatives to ensure the health and safety of our employees. |
| Workplace Inspections | We conduct workplace inspections once a month to ensure a comfortable and hygienic work environment, and to understand and improve work conditions. |
| Occupational Health and Safety Management | A comprehensive approach to management of work environments, work practices, and health form the base of our occupational health and safety measures. Through these measures, we promote the creation of comfortable work environments. |
Fulfilment of Various Leave of Absence Systems
Having a variety of leave system is necessary to unleashing the talents of all our employees. In addition to childcare leave and flextime, we are putting our energy into initiatives to raise employee awareness on ways to contribute to society by providing leaves for solving social issues, such as through participation in volunteer activities.
The average rate of paid leave utilization from fiscal 2014 to fiscal 2016 is 78.9%.
We have a lively work environment in which employees can proactively take paid leaves and work in a lively work environment.
Leave of Absence Systems Available to Employees
| | |
| --- | --- |
| Special Observance of Holidays Falling on Saturday | Should a national holiday fall on a Saturday, the holiday will be shifted to and observed on the preceding workday. |
| Problem Solving Leave | Employees may take up to three days off per year to participate in activities, such as volunteer work, to assist in addressing social problems. |
| Sabbatical System | Employees may take up to three months off to assess and adjust their careers, experiences, and workstyles. |
| Academic Leave of Absence | Employees may take up to two years off to focus on improving language skills or gaining expert knowledge away from their normal work. |
Internal Communication
We employ a variety of tools and events to promote communication between employees.
In addition to utilizing the internal company website, through which information is distributed internally, and events where the president and other executives communicate important information including company policies, we have installed a company restaurant and café to serve as a location for employees to communicate beyond work.
Moving on, we will continue working to vitalize companywide communication so that employees can play an active role.
Use of Internal Website
We have established the internal company website as the access point for companywide communication and tools.
Employees can contribute freely to the website, not only work-related information, but about the benefits system, club activities, and more. Executive messages and various company events are also posted daily through the company newsletter.
We have also implemented a chat tool called Modern Yahoo Messenger (MYM) as part of our efforts to create an environment where employees can communicate unreservedly with executives and people from other departments.
Company Events
We hold a variety of company events designed to deepen connections between employees. Yahoo! Meetings (YMs) for executives and employees are conducted once a year for all offices and all group companies to gather together. In addition, there are companywide morning meetings held at the beginning of each month to communicate management policies to employees, as well as Y! J Link events for employees to directly ask executives questions and speak on various subjects. By conducting such events, we strive to create a work environment open to communication.
We also hold a family day event in which families of employees are invited to the office to learn about the company and the day-to-day work of our employees. This event was conducted at six locations in fiscal 2016, with a total of roughly 2,000 family members participating.
Going forward, we will continue to build a work environment that enables employees and their families to strengthen the bonds between them.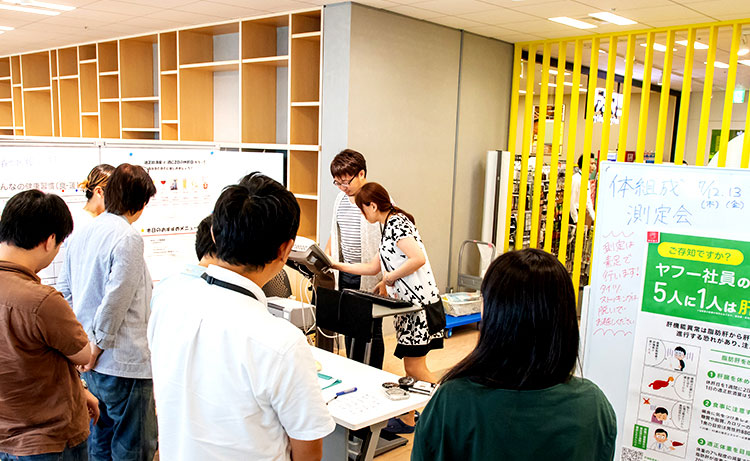 Company Restaurant
We have set up a company restaurant and café to serve as a location for employees to communicate beyond work.
For employees seeking to ascend to lofty goals, the restaurant serves as a "BASE" of nutrition and the café as a "CAMP" at which to replenish energy in the midst of their climb to the top. These eateries offer nutritious food based on the "1HOUR+ (One Hour +)" concept. This concept is about offering employees a chance to improve their mood or come up with new ideas by communicating with colleagues, thus adding a variety of "positives" to their eating experience, in addition to nutritional wellbeing.
Moving forward, we will post ordered BASE menus and consumed nutrition and calorie information on a website for individual employees. Employees wishing to improve their health can receive lifestyle advice on diet and exercise as well as sleep by participating in our health promotion program, which will be offered through physicians and dieticians from a health institution we have partnered with.