Corporate Obligations and Responsibilities

Improving Our Service Quality
Since its founding, Yahoo Japan Corporation ("Yahoo! JAPAN") has committed itself to increasing customer satisfaction. To that end, we have created a help page that is updated to reflect questions raised by customers and have implemented a variety of other service initiatives, including e-mail and chat support, fraud checks, and website monitoring. Moving forward, we will work to improve customer support services and systems, with the goal of further increasing customer satisfaction.
Quality Preservation Initiatives
To maintain the high quality of services and increase ease of use, Yahoo! JAPAN has a department to examine service operations, product quality, and knowhow, in addition to proofreading texts to be published.
For instance, we scrutinize our services from a variety of angles to see whether they work properly on smartphones, tablets, and other devices; whether, when actually used, they are easy to operate from users' perspective; and whether explanations contain appropriate language and are easy to understand in order to create websites and apps that are a pleasure to use.
Furthermore, the Media Policy of Yahoo! JAPAN has been released in order to clarify our basic policy on media services, and continuous efforts are made to maintain service quality.
Basic Policy on Accessibility
We work to guarantee accessibility so that our web contents can be accessed by as many people, and in as many situations as possible.
On June 20, 2013, Yahoo! JAPAN released its Web Accessibility Policy. It was then updated on August 1, 2016 to conform with Japanese Industrial Standards, JIS X 8341-3:2016 (Guidelines for Older Persons and Persons with Disabilities - Information and Communications Equipment, Software, and Services-Part 3: Web Content). In 2017, Yahoo! JAPAN became a member of Web Accessibility Infrastructure Committee, an initiative by Info-access Communication Council. Moving on, we will spread JIS X 8341-3 and participate in various activities in order to build infrastructure necessary for enhancing web accessibility.
Establishment of Support Systems
We have established contact points for each of our Yahoo! JAPAN services, wherein our dedicated employees offer support by responding to customer inquiries.
We also provide free support services via phone and e-mail to business owners using Yahoo! Promotional Ads and Yahoo! Shopping. In addition to offering services and tools, we believe that assisting in their use is an important part of our function to support our business partners.
Improvements to Customer Support Services
In order to increase the quality of our customer support, in addition to our existing e-mail support services, we are working to add expanded chat support, which is highly compatible with our Internet services.
In addition, we are putting our energy behind educating and fostering our support staff as part of efforts to further improve services through our own education methods and training curricula.
Dialogues with Stakeholders
We carry out dialogues with stakeholders to facilitate discussions with persons with relevant perspectives in order to continue solving the problems of the society as a company that puts its users first.
In May 2017, we held future-oriented discussions on "How can companies engage with SDGs and increase their corporate value by 2030?"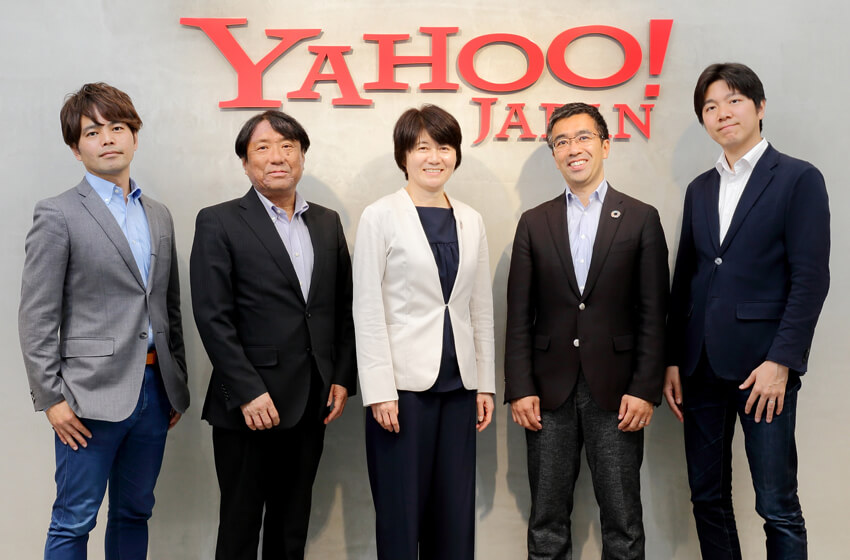 Related link
System Development to Reflect Customer Needs to Our Services
We have created customer comment forms for all our services and have introduced mechanisms for promptly sharing feedback internally.
A Supporters' Club was also established to organize core fans of Yahoo! JAPAN services and facilitate interactions between customers and developers. Through these mechanisms, we can quickly recognize customer needs as they arise and develop systems to continuously improve the quality of Yahoo! JAPAN services.
Improvements to Our Help Page
A help page link is provided in all our services to assist customers in smoothly addressing their issues that arise during the use of our services. Help page information reflects customer questions and is frequently updated to ensure that the customer can easily locate the answers they need.
Implementation of Screening and Inspections
To ensure that our e-commerce services, such as Yahoo! Shopping and YAHUOKU!, remain safe and secure, we screen stores when they are opened and carry out inspections for prohibited items. We also conduct, based on our guidelines, round-the-clock monitoring of Yahoo! News and Yahoo! Knowledge Search for unauthorized postings or postings containing personal information.
YAHUOKU! fraud prevention measures
Yahoo! JAPAN implements control measures and system enhancements to prevent fraud in YAHUOKU!. We also promote activities from multiple angles to raise awareness of users and to collaborate with right holders' associations in protecting intellectual property. Moving on, we will continue to take active measures to achieve zero fraud.
YAHUOKU! Self-defense
YAHUOKU! Self-defense provides customers with information on how to ensure safety and security when using YAHUOKU!. The information page offers a summary of matters that require special attention and confirmation in each step of a transaction, i.e., selling, bidding, paying, and receiving goods. It also provides points that should be taken into account to prevent the trade of goods procured unlawfully or accidental access to phishing sites.
Confirmation prior to listing on YAHUOKU!
In November 2006, YAHUOKU! introduced a process to confirm the identity of the seller prior to listing goods on YAHUOKU! through the presentation of personal ID data. In August 2012, it introduced a confirmation method ("mobile phone conformation") using devices with which personal identification is performed by mobile phone operators (i.e., mobile phone, smartphone), enabling the seller to place goods on YAHUOKU! by performing either of the confirmation processes.
Combating counterfeit goods
Yahoo! JAPAN partners with luxurious brand companies in an effort to combat the distribution of counterfeit goods on YAHUOKU! We have signed anti-counterfeit agreements with Louis Vuitton Malletier and Coach, Inc. to take collaborative measures against the distribution of such goods.
Furthermore, we cooperate with the police in crime investigation as well as exchange information with the Ministry of Economy, Trade and Industry and other government agencies that promote measures against counterfeit products.
We also continue activities to raise awareness of users to prevent them from purchasing counterfeit goods.
Yahoo! JAPAN aims to establish a global standard in operating online auction and flea market apps by continuing to collaborate with concerned parties on anti-counterfeit measures and by carrying out awareness-raising activities toward users.
Initiatives in intellectual property protection
Together with rights holders and rights holders' associations, we have founded the Council for Intellectual Property Protection on Internet (CIPP) in December 2005, welcoming related government agencies as observers. CIPP formulated the Guidelines for Prevention of the Distribution of Intellectual Property Rights Infringing Goods on the Internet, under which rights holders and Internet operators join hands to prevent the distribution of infringing goods. According to CIPP's report for 2017, the ratio of infringing goods posted on online auctions that have adopted countermeasures has remained extremely low at 0.07% (out of 2,972) for copyright infringing goods and 0.09% (out of 2,147) for trademark infringing goods.
The extremely low ratio of intellectual property rights infringing goods despite an increase in the overall number of goods listed on Internet auctions can be regarded as a result of the joint initiatives by Internet operators and rights holders.
Measures against non-delivery of purchased goods
For all transactions (excluding some categories with a different price system), Yahoo! JAPAN adopts a system where YAHUOKU! temporarily receives payment for goods and pays the seller after the successful bidder has followed procedures to to notify their receipt of purchased goods. Yahoo! JAPAN has also established and operates a unique compensation system for YAHUOKU! customers who have become victims of fraud despite complying with YAHUOKU! rules when using the service.
Improvements to Advertisement Screening System
Internet advertising and marketing methods are being increasingly relied upon. In order to ensure that advertisements are useful and reach a wider audience, we are working to increase the reliability of the advertising methods and the advertisements themselves, as well as heighten the value of advertisement media. Yahoo! JAPAN has established standards of acceptability for publishable advertisements in terms of information, appearance, and language. Accordingly, ads are screened and also monitored after posting. We also collect feedback on ads through dedicated comment forms and examine and analyze customer reactions and concerns regarding ads on social media. Furthermore, while we distribute and publish ads on outside partner websites, we also apply standards to the content on partner sites, ad implementation methods and traffic quality. We screen accordingly in order to secure the brand safety of the advertisers and to eliminate ad frauds.
In addition, we participate in the activities of Japan Interactive Advertising Association (JIAA), Japan Advertising Review Organization (JARO), and other organizations to determine independent guidelines to be observed within the industry. As part of these efforts, we collect information, including comments and concerns about advertisements published not only on the Internet but on all types of media, for use in advertisement screening.
Revision of guidelines to eradicate ad frauds
In September 2018, Yahoo! JAPAN temporary suspended part of its ad distribution in order to strengthen its measures against ad fraud, a method to illegally defraud advertising fees which is recently becoming a problem. In October 2018, Yahoo! JAPAN revised its guidelines on ad distribution to build sound platforms and is operating under the revised guidelines.
The outline of the guideline revisions (excerpt only) are as follows:
Ad distribution guideline
In order to eliminate media whose entity is unaccountable, we will newly establish a policy that clarifies the conditions to be an operator, which are: "the entity must have high profile and track record as media", and "the information in the website in which ads are distributed must have credibility."
Ad implementation guideline
To prevent invalid activities that are aimed to raise revenue through accidental clicks and taps, we will add restrictions on the method to implement a button to close the advertisement.
Guideline on ad traffic quality
Examples of problematic ad frauds* will be stipulated as cases to be prohibited.
*Traffic that is generated by forcibly displaying the website to which ads are distributed from another website
Related link
Formulation of Media Policy
We offer media services such as Yahoo! News, which are designed to deliver information published by various media to users. A vast amount of information circulates on the Internet, and one of the largest issues people face is how they can encounter information that is important to society and that can arouse new interests. Looking forward, in order to solve these issues while seeking understanding of users and various media which provides us with information, and gaining trust as an information distributer and a platform to gather information, we have outlined a basic policy to address these issues in our Media Policy of Yahoo! JAPAN.