Corporate Obligations and Responsibilities

Corporate Governance
Corporate governance is essential to preserving the trust the public has placed in us as a company. To that end, Yahoo Japan Corporation ("Yahoo! JAPAN") is actively working to strengthen corporate governance by such means as establishing internal control systems, enhancing audit functions, and improving business processes.
Views on Corporate Governance
We consider good corporate governance as essential to enhancing corporate value over the medium to long term. The following system allows us to conduct business activities that are both appropriate and efficient.
We also have an Audit and Supervisory Committee with independent outside directors comprising the majority of its members. At Yahoo! JAPAN, we believe that the current governance structure is the best way to ensure swift decision-making and monitoring of management.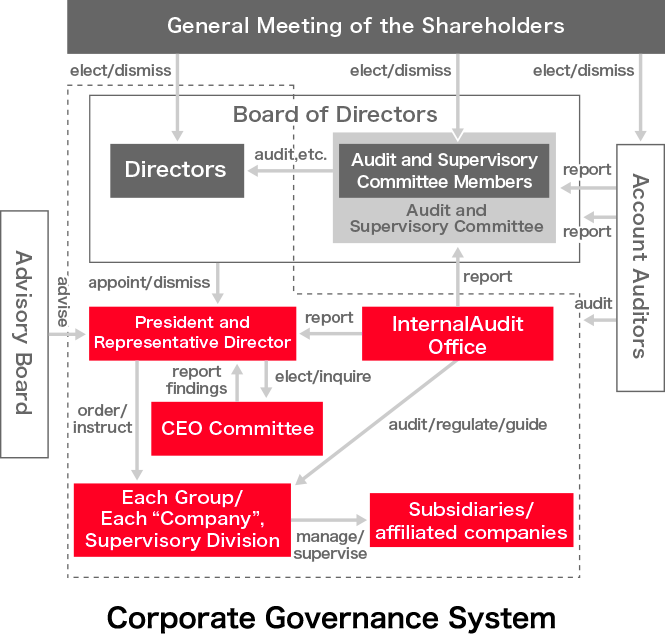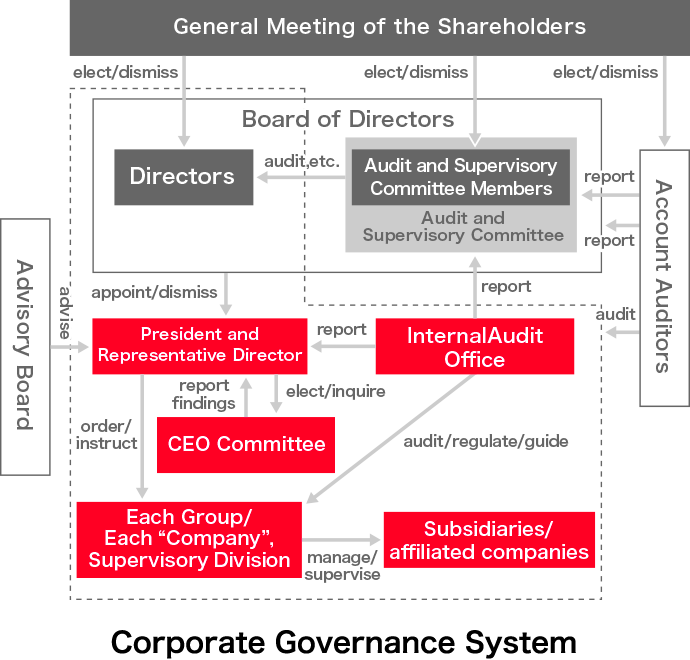 Board of Directors
The Board of Directors is responsible for management policies, management strategy, business planning, the acquisition or disposal of important assets, decision-making regarding important organizational or personnel matters, and the supervision of business execution throughout company. In Yahoo! JAPAN, in order to promote swift, strategic managerial operations and to maintain and enhance competitiveness, we have introduced an internal company/group system.
Furthermore, the decision-making and supervisory functions of the Board of Directors are clearly separated from the business execution function assumed by the corporate officers and companies/groups.
Audit and Supervisory Committee
The Audit and Supervisory Committee is composed of three members, two of whom are independent outside directors. The Audit and Supervisory Committee is responsible for auditing and supervising all aspects of Yahoo! JAPAN's business activities, including the appropriateness of policy, planning, and procedures; the effectiveness of business implementation; and compliance with laws and regulations, carried out by means of, for example, perusing important documents and inspecting subsidiary companies. Each member of the committee monitors overall business administration, including the appropriateness of individual matters of business execution, by attending important meetings, including the Board of Directors meetings.
Furthermore, at Audit and Supervisory Committee and other periodic meetings, members receive reports on auditing methods and results, as well as other information necessary for auditing activities, from account auditors, the Internal Audit Office, and other relevant parties.
CEO Committee
Important issues requiring deliberation and judgment by the Board of Directors are reviewed in advance by the CEO Committee. Important issues on which the president independently makes judgments are reviewed by the CEO Committee in accordance with internal Company regulations.
Internal Audit Office
Reporting directly to the president, the Internal Audit Office oversees the development and implementation of internal control systems throughout the Yahoo Japan Group in addition to providing evaluations and improvement guidance for Groupwide systems with the goal of ensuring appropriate and efficient execution of business operations. The Internal Audit Office carries out its various audit-related activities in cooperation with audited departments and subsidiaries.
Advisory Board
When the need for broad-based deliberation arises with regard to issues such as implementing a new business, launching a new service, or other issue of strategic significance, we convene an Advisory Board composed of highly respected outside experts from the academic, and business communities such as university professors, legal professionals, persons from the media sector and others. This enables us to incorporate a diverse range of views and opinions into important management decision-making.