Corporate Obligations and Responsibilities

Basic Policy
Yahoo Japan Corporation ("Yahoo! JAPAN") strives to fulfill its own social responsibilities and aims for a continuous social and environmental development, while maintaining open dialogues with our stakeholders.
Charter of Corporate Behavior
The Yahoo Japan Group, comprised of Yahoo Japan Corporation (Yahoo! JAPAN) and Yahoo! JAPAN group companies, conducts business activities in a competitive marketplace in accordance with rules such as the law, fair business practices and social ethics.
We believe that there is value in winning only when you play by the rules, and not by cheating.
We promise all stakeholders including our users, shareholders, investors, business partners, communities and employees to be trustworthy, and aim to create a safe and sustainable Internet community by being in tune with the society. We will practice business with the spirit of fair play, and strive to enhance our corporate value by fulfilling the company's social responsibilities.
For this, the directors and employees fully understand our expected and required roles, will maintain sound corporate governance and will practice efficient corporate activities in order to obtain trust and empathy from everyone.
Moreover, the top management acknowledges that it is our role to fulfill the social responsibilities by honoring the spirit of this Charter on each of the following items: achievement of customer satisfaction and trust; securement of fair and free competition; maintenance of sound relations with legislation and administration; timely and appropriate disclosure of management information; respect for employees; establishment of positive work environment, contribution to global environment conservation, implementation of social contribution activities as "good citizens"; separation form antisocial forces; harmony with communities and cultures; compliance with international rules; strict control of personal information; guarantee of information security; respect for intellectual property rights. With this in mind, we will respect the spirit of this Charter and commit ourselves to its implementation.
Promotion Structure
CSR and the Four UPDATEs are promoted through the following structure.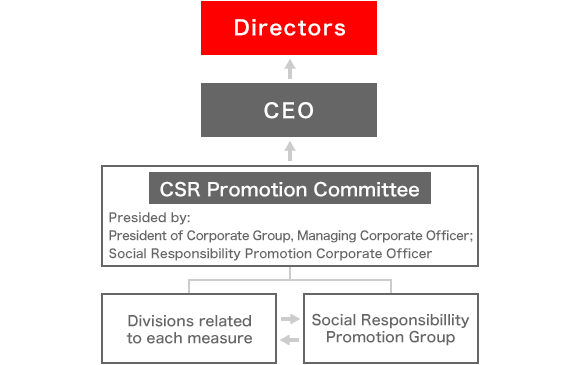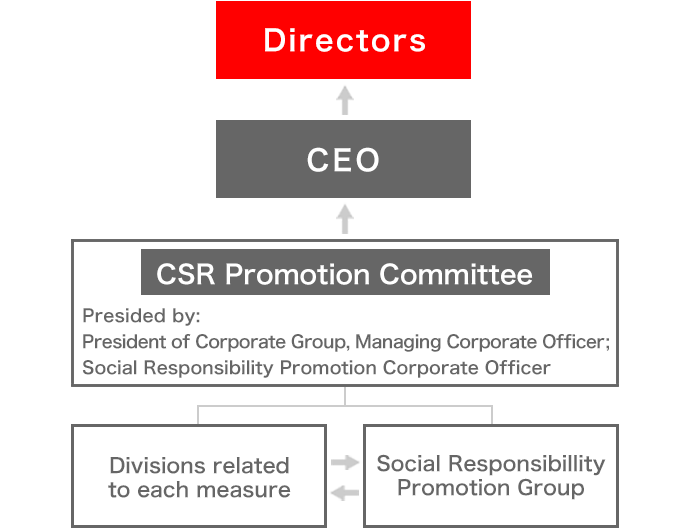 Communication with Stakeholders
By heeding the voices of our valued stakeholders and implementing the Four UPDATEs, we are simultaneously working toward a sustainable society and enhancing our corporate value.
Stakeholders
Communication methods and content
Reflecting on the goals of corporate activities
Users
Communication methods and content

・Establish a mechanism for receiving customer feedback from users of Yahoo! JAPAN services
・Conduct user surveys and hold events with fans of Yahoo! JAPAN services in order to directly receive feedback and service-related requests
・Collect user opinions about Yahoo! JAPAN services through various websites and social networking service pages
・ Post corporate information and business results on our official websites and social networking service pages

Reflecting on the goals of corporate activities

・Enhance customer service

・Continually update Yahoo! JAPAN services

Shareholders and other investors
Reflecting on the goals of corporate activities

・Annual general meetings of shareholders
・Quarterly results briefings
・Dialogues with Japanese and overseas institutional investors

Reflecting on the goals of corporate activities

・Provision of timely, accurate information on such topics as business operating conditions

・Constructive dialogues leading to enhanced quality of corporate management

Partners
Communication methods and content

・Maintain daily communication through transactions
・Hold conferences, training sessions, and other events with advertisers, content providers, e-commerce store operators, and others

Reflecting on the goals of corporate activities

・Strengthen relationships based on mutual trust

Employees
Communication methods and content

・Employee awareness surveys
・Compliance Hotline (internal reporting system)
・Harassment Hotline
・Intranet-based information dissemination
・Active internal project implementation
・Informal gatherings of former Company employees

Reflecting on the goals of corporate activities

・Employee-friendly workspace and work culture

・Planning and evaluation of labor and human resource policies

・Respect the human rights and individuality of each employee

Regions and society
Communication methods and content

・Participate in joint public/private sector projects
・Participate in economic and Internet-related industrial organizations
・Collaborate with law enforcement and investigative bodies
・Cooperate in regional contribution activities and events at each business location
・Outsource company personnel via corporate fellowships to governmental agencies and ministries as well as to local municipal offices

Reflecting on the goals of corporate activities

・Participate actively in regional communities

・Propose measures to invigorate the entire Japanese economy and information technology (IT) industry

・Leverage state-of-the-art information technologies to identify and solve social issues

The next generation
Communication methods and contentPromote Hack Kids,

・Provide Yahoo! Kids service
・Collaborate with educational organizations in formulating policy proposals for children's education
・Promote Hack Kids, Yahoo! JAPAN MeetUP, and other services

Reflecting on the goals of corporate activities

・Provide appropriate Internet access to children and disseminate information both inside and outside the Company about children's appropriate Internet usage

・Offer programming instruction and other learning courses to nurture IT literacy among children in preparation for a better Internet-based society in the future
SDGs and Yahoo Japan Group initiatives
In September 2015, all 193 member-states of the United Nations unanimously adopted the Sustainable Development Goals (SDGs), comprising 17 goals with 169 targets. The year 2030 is the target date for achieving the SDG action plan, specific goals of which include eliminating poverty and hunger, reducing energy consumption, combating climate change, and promoting peaceful and inclusive societies.
Yahoo! JAPAN has classified its SDG initiatives into Four UPDATEs that lay out focus areas for solving the problems of the society.
1.Promote an IT Society
We promote a society where information technology (IT) is deployed with the goal of benefiting all members of society and solidly contributing to social progress.
<Examples of Initiatives>

・Yahoo! Search
・Yahoo! Kids
・Study group on Internet usage by children
・Hack Kids
・Hack Day
・Hack U
・IT Human Resource Development Project
・Promote IT education and foster human resource development in collaboration with educational organizations
・Yahoo! JAPAN Research
・Measures against illegal and harmful information
2. Support Disaster Relief and Social Problem-Solving Efforts
In addition to independently carrying out disaster relief initiatives, Yahoo! JAPAN supports the activities of nonprofit organizations (NPOs) and other entities dedicated to solving social problems.
<Examples of Initiatives>

・Disaster Calendar
・Yahoo! Weather & Disaster
・Yahoo! Disaster Alert
・Yahoo! News Special Feature
・Distribute news articles related to social contribution, including NPO activities, via Yahoo! News
・Yahoo! Internet Fund Raising
・Yahoo! Fund
・reU funding
・Tour de Tohoku support
・Collaboration with Fisherman Japan
・Tohoku Yell Market
・Social Emergency Management Alliance (SEMA)
・Activities at regional offices
・Yahoo! Government Auctions
・Search for 3.11
3.Foster Diversity
We aim to foster a society that values diversity, where persons of various backgrounds and worldviews equally participate, harmoniously coexist, and fully respect each other's individuality.
<Examples of Initiatives>

・Woman PJ (women's workplace participation)
・Rainbow Project
・Support of athletes with disabilities
・Audible elections
・Office Anywhere
・Selectable Work System (Flex-time scheduling and variable work-week options)
・Open workspace
・LODGE co-working space
・Support for obtaining PhD
・One-on-one meetings
・New graduates recruitment
・Health management promotion
4.Work toward a Sustainable Society
We are committed to sustainable development that preserves the environment and society and passes them on intact to the next generation.
<Examples of Initiatives>

・Constructing environment-friendly next-generation datacenters
・Promoting usage of renewable energy
・Collaborating with Fisherman Japan
・Serving Blue Seafood at Company restaurants
・Support for carbon offset campaigns at national parks
・Cultivation of firefly habitats in biotopes
・Green500 supercomputer
・Eco-friendly company initiatives
・reU funding
・ecohai